Do you love beer? Are you looking for something new and exciting to try? Then look no further! Here are 14 delicious European beers (see also: 6 Delicious Irish Beers To Try Today)that will tantalize your taste buds and make you feel like you're on a real brewery tour.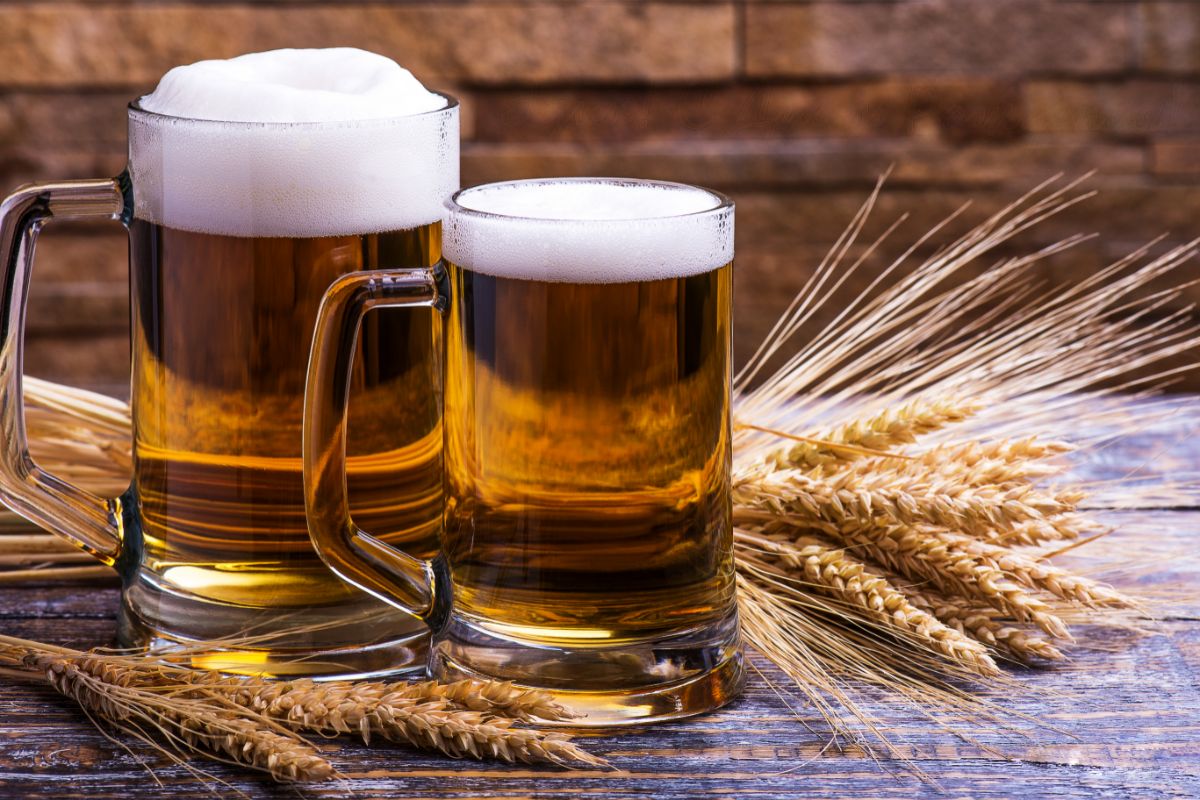 From Pilsner Urquell to Weihenstephan Hefe Weissbier, these unique brews will take your beer-tasting experience to the next level. So, grab a glass and get ready for an unforgettable adventure into the world of European beer!
If you're looking for a unique beer experience, then you should definitely give Zywiec a try. This pale light lager is made from high quality hops in Poland along with grainy malts and water from the mountains. The brewery started operation way back in 1865.
The beer has an exquisite combo of sweetness and bitterness with the flavor of green tart apples and a metallic finish that will leave your taste buds begging for more.
Plus, it's got just the right amount of alcohol content at 5.6%, making it perfect for sipping on those hot summer days. You can find it in different colors each with distinct flavors. Don't forget to pick up a 6-pack of this delicious European beer – your taste buds will thank you!
Fuller's Golden Pride is a truly unique beer experience. With an 8.5% alcohol content it offers an in depth amber color that envelops your taste buds with a perfect blend of hops and malts.
The toasted grain flavors combined with sweet orange oil create a pleasant bitterness that lingers on the finish.
It's also perfect for those who want to enjoy their beer responsibly, as its higher alcohol content means (see also: What Does Proof Mean In Alcohol?)you don't need to drink too much in order to get the desired effects.
Pilsner Urquell is the oldest of the big three European beer brands, and it's still as popular today as when it was first brewed in 1842.
Pilsner Urquell is a Czech classic with a unique mix of herbaceous hops and malts. Its tantalizing aroma, fresh crispy taste, and clean finish make it one of the best beers in the world.
Not only does it have a 4.4% ABV which makes it perfect for those looking to enjoy their beer responsibly, but its popularity also means you can find it almost anywhere.
Guinness is one of the most famous beers in the world and for good reason. This Irish stout has a unique flavor that is both sweet, smooth and bitter, making it an interesting and enjoyable beer to drink.
Not only does it have a rich roasted flavor thanks to its dark malt, but it also has a creamy texture that's unlike any other beer.
And with only 4.2% ABV, you can enjoy Guinness responsibly while still enjoying its full-bodied taste.
If you're looking for a great European beer that's both delicious and refreshing, then Super Bock is the perfect choice. This popular lager from Portugal offers a tasty beer that's been brewed with hops and malt, giving it a bitter yet sweet taste.
It's golden in color, has an ABV of 5.2%, and is medium-bodied with an off-white head and minimal lacing that looks appealing. Plus, the lovely people of Portugal enjoy drinking during their hot dry summers. Bliss!
If you're looking for a classic European beer that's been around for centuries, then Timisoreana is the perfect choice. This Romanian Pilsner lager has been brewed since 1678 and has a 5% ABV. It's golden in color with a medium-low body and a sweet aftertaste of apple flavor.
The taste is a combination of earthy hops and grainy malts, giving it a pleasant but slightly bitter mouthfeel. Moreover, it looks great in the bottle with its regal red label and gold crown logo.
If you're looking for a delicious and unique European beer, (see also: 6 Delicious Indian Beers To Try Today)then you should definitely give Mahou Cinco Estrella a try. This Spanish delight has been around since 1969 and a popular choice of beer in Madrid.
The flavor is delightfully sweet with a distinct grassy and malt taste that make it a balanced floral yet spicy beer. On top of that, it has an alcohol content of between 5.1% and 5.5%, which makes it an easy to drink beer that isn't too overpowering.
And if you're looking to impress your friends with something special, then the iconic gold label and six-pointed star logo on its bottle will certainly do the trick!
Peroni Nastro Azzurro is an Italian lager that you have to try if you want to experience a beer (see also: 10 Delicious Italian Beers To Try Today)full of flavor! This light golden-colored beer has a refreshing and crispy taste, with aromatic notes that offer a distinct flavor.
It is brewed with Italian maize and hops according to the modern international style, and it has an ABV of 4.7%. Perfect for any occasion, this delightful beer also has a clean and smooth finish.
Brasserie d'Orval is a beer that you have to try (see also: 5 Delicious Dutch Beers To Try Today)if you're looking for something unique and flavorful. This Belgian beer originated in the Orval Abbey and is brewed with slightly complex ingredients, giving it a distinctive taste.
It has an earthy and herbal flavor from the hops and barley malts, making it fruity with a slight hint of bitterness.
Brasserie d'Orval also has an alcohol content of 6.2%, making it ideal for those who want to indulge without getting too tipsy!
As one of the oldest breweries in Europe, the Bayerische Staatsbrauerei Weihenstephan is the brand company that brews some of the best German beer (see also: 7 Delicious German Beers To Try Today)around.
Their signature beer is Weihenstephan Hefe Weissbier, a golden-yellow full-bodied wheat beer with an alcohol content of 5.4%.
This delightful beer has a unique combination of flavors – it tastes like yeast with a hint of banana and has a refreshing scent of cloves. It's perfect to pair with seafood and traditional Bavarian food for special occasions or just for a relaxing night at home.
Heineken is one of the most iconic beers in the world. Its bright green bottle, red star, and smiling e's are instantly recognizable to beer lovers all over the globe.
The beer itself is smooth and nicely blended with a clean finish that can satisfy any palate. It has been enjoyed near and far since 1864, making it one of Europe's oldest beers still in production today.
If you're looking for an excellent European beer to try, Heineken is definitely a good choice. You can buy a 24-pack of 12oz bottles for just $28.79, making it a great option for sharing with friends or bringing to parties.
The 5% ABV makes it a great all-day beer – perfect for relaxing on the beach or enjoying at your next barbecue gathering.
And when you taste the unique flavor profile from this classic brew, you'll understand why Heineken continues to be popular around the world!
Newcastle Brown Ale is a beloved beer from England that has been brewed since 1927. It's made with a unique blend of pale and roasted malts, combined with American hops to create an uncommonly balanced brown ale.
It's not too sweet, not too bitter – it's just right! You can purchase a 12-pack of 12oz bottles for $16.99, making it an affordable beer to share with friends or bring to your next gathering.
The 4.7% ABV makes this beer perfect for those who want something light and refreshing but still flavorful enough to enjoy throughout the day. And you'll love the smooth and crisp taste that comes from Newcastle Brown Ale; it's like no other beer out there!
Leffe Blonde is a 6.6% ABV Belgian beer that has won numerous awards for its unique flavor and body. It has a deep golden color and a smooth, subtle flavor that makes it easy to drink and enjoy.
The aroma of Leffe Blonde is slightly spicy with hints of clove, drawing you in to reveal an amazingly creamy body that leads to a restrained dry finish. This beer is perfect for sipping slowly and savoring its mystery.
Amstel Light is a light beer that packs a lot of flavor. This 3.5% ABV beer has a unique mixture of barley malt and hops that give it a full-bodied flavor that's never diluted.
It has a smooth, refreshing taste that will satisfy anyone looking for an easy drinking beer. Amstel Light is perfect for any gathering or just to enjoy on its own.
Conclusion
If you're looking for a new and delicious European beer to try, (see also: 14 Delicious English Beers To Try Today)there are plenty of options out there! Each one is unique in its own way.
So take the time to explore these different beers and find the one that best suits your taste buds. And don't forget to enjoy it responsibly!
Latest posts by Rees Vaughn
(see all)