England has a great range of beer. They have everything from pale ale through to dark stouts.
English pale ales are actually quite different from American ones.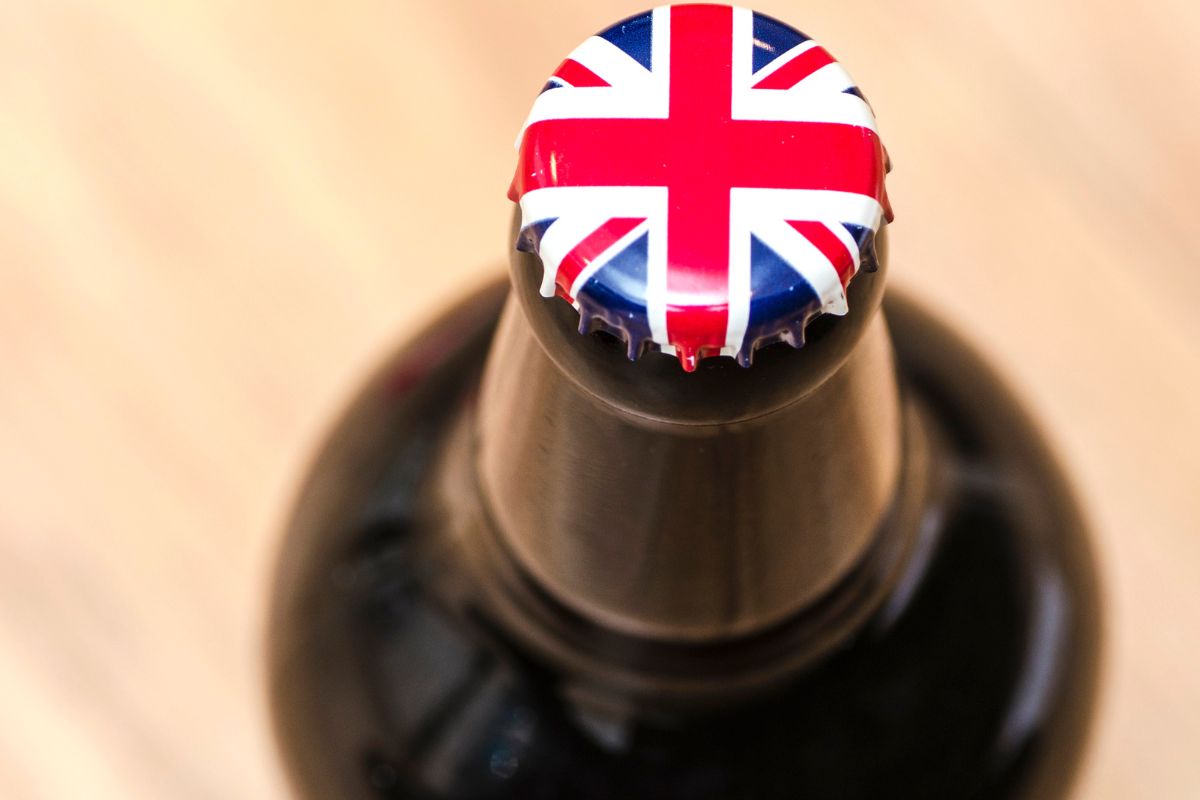 Whereas American pale ales tend to have a much greater emphasis on their hops flavors with notes of citrus, English pale ales are typically more balanced in flavor towards their barley characteristics and tend to have more caramel, and cookie-like flavors.
Coming Up
In this article, we'll be introducing you to several different English beers that we believe are well worth trying. Hope those taste buds are ready for this!
(The following beers aren't listed in any particular order.)
1. Theakston Old Peculier
Sold all over the world, Theakston's Old Peculiar is made with pale roasted barley with two bitter hops in combination with a Fuggle' hop to deliver a complex and full-bodied flavor, complete with a subtle hint of cherry together with a banana overtone.
It's brewed in the Yorkshire Dales in England, has been around since 1827, and they use water sourced from their very own well. It's quite strong with a 5.6 % ABV.
Theakston now also offers a spirit distilled from their most famous beer, Theakston Spirit of Old Peculiar.
2. Wychwood Hobgoblin IPA
Wychwood brewery is based in Oxfordshire, England, and they pride themselves on creating entirely unique and highly secretive recipes to achieve the distinct colors and flavors across their range.
Hobgoblin IPA is one of their more popular creations. It has an ABV of 5.0%, and has won many awards.
It's pale gold and is derived from the finest British hops. It's full-bodied with moderate sweetness and has flavors of malt together with notes of honey and tropical fruits for a hint of zest.
3. Heineken Newcastle Brown Ale
This is a brown ale, originally brewed in Newcastle upon Tyne, in England. 
It has a lower hopping rate than traditional English bitters, and this results in a significantly less bitter overall taste.
It's made by combining two very different malts, namely dark caramel and English pale, and this serves to provide a golden brown color and a smooth taste and unique flavor.
It has an alcohol volume of 4.7% which is relatively high.
And the good news is that it's available to buy in the US.
4. Fuller's London Pride
With a name like this, it would be hard to argue that this isn't an English beer!
This is an iconic ale of England's capital, and has a history dating back to the 1950s.
It's brewed with multiple, and entirely home-grown hop varieties, to produce a beer that has incomparable depth and balance. The soul of the beer however lies in its malt.
It has a tawny color, and has distinct notes of dried fruit and biscuit, that go incredibly well with the fresh pine-like herbs from the hops. It's rich and smooth and perfectly balanced.
5. Greene King Old Speckled Hen
Old Speckled Hen is one of England's more distinctive beers. It has been brewed since the 1700s in Oxfordshire, England, and is till produced in England to this day.
It has a rich and malty flavor, complete with a robust toffee and caramel flavor as well. And you may also detect hints of banana and pear drops. Slightly more bitter than sweet, it is very warm and full-bodied.
The recipe has changed a little in recent years and the alcohol by volume is now down to 4.8%, which to be honest is still quite high.
6. Shepherd Neame India Pale Ale
Despite the name, India Pale Ale was not invented in India but in England. The Shepherd Neame brewery is nestled in the medieval market town of Faversham in Kent, England.
It hails from the 18th century and has a very high alcohol by volume, coming in at 6.1%.
It bears a potent bitterness, which is offset with a generous portion of pale ale malt for balance without compromise, delivering a strong hop character and full-bodied thirst quencher.
7. Fuller's 1845
In addition to Fuller's London Pride mentioned earlier, Fuller's also produces a strong, rich and fruity ale, known as 1845.
Considered a masterpiece in brewing, 1845 has won multiple awards as a live beer that's skillfully brewed to mature over time.
Being matured for 100 days prior to being released, this really adds both character and depth to the resulting flavor.
It's brewed with biscuit-like amber malt to produce a dark tawny color and sweet, fruit cake aroma complete with notes of spice and raisin, that achieves an unparalleled combination of bitterness and sweetness.
8. Shepherd Neame 1698 
1698 was initially brewed to celebrate the tercentenary of Britain's oldest brewer, Shepherd Neame. And as a Kentish ale, it is characteristically hoppy.
This beer too can be subject to bottle -conditioning, whereby the interaction of brewing sugars with the yeast delivers fine Champagne-like bubbles that further enhance both the aroma and the flavor, which is rich, fruity and warming.
It is moderately bitter, and at the same time moderately sweet, and has a high alcohol by volume, coming in at 6.5%.
9. Shepherd Neame Bishops Finger
Considered a connoisseur's beer, this delight from Shepherd Neame, Britain's oldest brewer,  comes backed by excellent credentials.
It takes its name from the finger-shaped signposts which pointed pilgrims on their way to the tomb of Thomas a Becket in Canterbury.
It is rich and ruby colored, and is brewed using only 100% natural ingredients, including the likes of Kentish hops and barley, and Shepherd Neame's own artesian mineral water.
It is slightly more bitter than sweet, with an aroma of toffee and berries, and has an ABV of 5.2%.
10. John Smith's Extra Smooth
John Smith's brewery defines itself as "Only ordinary by name". To this day, it is still brewed in a brewery in Tadcaster.
As the name rightly suggests, John Smith's is an extra smooth (and creamy) pale ale. It's a bestseller with a very reasonable alcohol by volume, coming in at a moderate 3.6%.
It has an unmistakable cereal character, with unmistakable notes of malt and caramel. It has a low bitterness overall, and is best served cool. It has a balanced taste and is available to buy in the US.
11. Wells Bombardier Amber Beer
Distinctly English, Wells has produced an amber beer that's brewed with the finest British Hops and fresh mineral water from the Eagle Brewery Well. 
It has a fruity aroma together with a rich, malty taste. It uses tangy Fuggles hops to produce a crisp, mouthwatering beer that's more sweet than bitter.
It's easily recognizable with its copper appearance, smooth taste and spicy, sultana and biscuit-like aroma. And it pairs very well with traditional English cuisine. It has a reasonable alcohol volume of 4.3%.
12. Marston's Pedigree
Marston's brewery backstory dates back to Burton-Upon-Trent, England in 1834, and to this day beer is still brewed there with local water.
It's brewed by a special technique, with a trough above double rows of oak casks, fermenting the beer, and whipping up a special yeast.
Marston's Pedigree has a unique one-of-a-kind taste, and an undeniably fascinating aroma, combining the likes of biscuit-like malt, spicy hops and a light fruitiness as well.
It's an amber ale rather than a pale one, with a balance between bitterness and sweetness and an alcohol volume of a generous 4.5%.
13. Robinson's Old Tom
Old Tom comes from Robinson's Brewery in Stockport, England, which has been in business for over a hundred years. 
It has a very high alcohol volume, coming in at 8.5%, and is very dark in color. It's slightly more bitter than it is sweet, with a nice balance to it.
It has an aroma of molasses, but the taste is slightly different, specifically warming, peppery and rich.
It has won some of the industry's most prestigious awards, namely Champion Beer of Britain, and World's Best Ale.
14. Shepherd Neame Spitfire
Initially intended as a one-off creation in 1990, the Kentish ale Spitfire became one of the best loved beers in the UK, and has now attained an international reputation as a British classic.
It is available as an amber ale, a golden ale, and as a lager as well. And the overall taste varies according to which variation you drink.
The golden ale has a flowery hop character and vibrant fruity aroma balanced with biscuit, toffee and caramel malts to deliver a bittersweet dream.
The amber ale uses Kentish hops, layered with flavors of orange marmalade, sweet biscuits and caramel malts, and has a peppery dry finish.
The lager in contrast is lightly hopped to produce a clean, crisp and refreshing experience.
Wrap Up
So, as you can see, there's a great variety of English beers waiting for you to try, and many of them are available right here in the US. They're quite unlike US beers, and there's literally something for every taste.
We're pretty sure by this point that we've whetted your appetite, so go ahead and quench your thirst. Bye for now!
Latest posts by Rees Vaughn
(see all)