Are you heading to New York to experience St. Paddys Day in style? Or are you lucky enough to head to the land of potatoes and humor itself? Then you have to prepare yourself for the crazy that is about to be unleashed.
The people of Ireland love their alcohol and more importantly, their beer. It ranks 6 in the most alcohol consumed per person in a year. They are not afraid of a good time and you need to prepare yourself.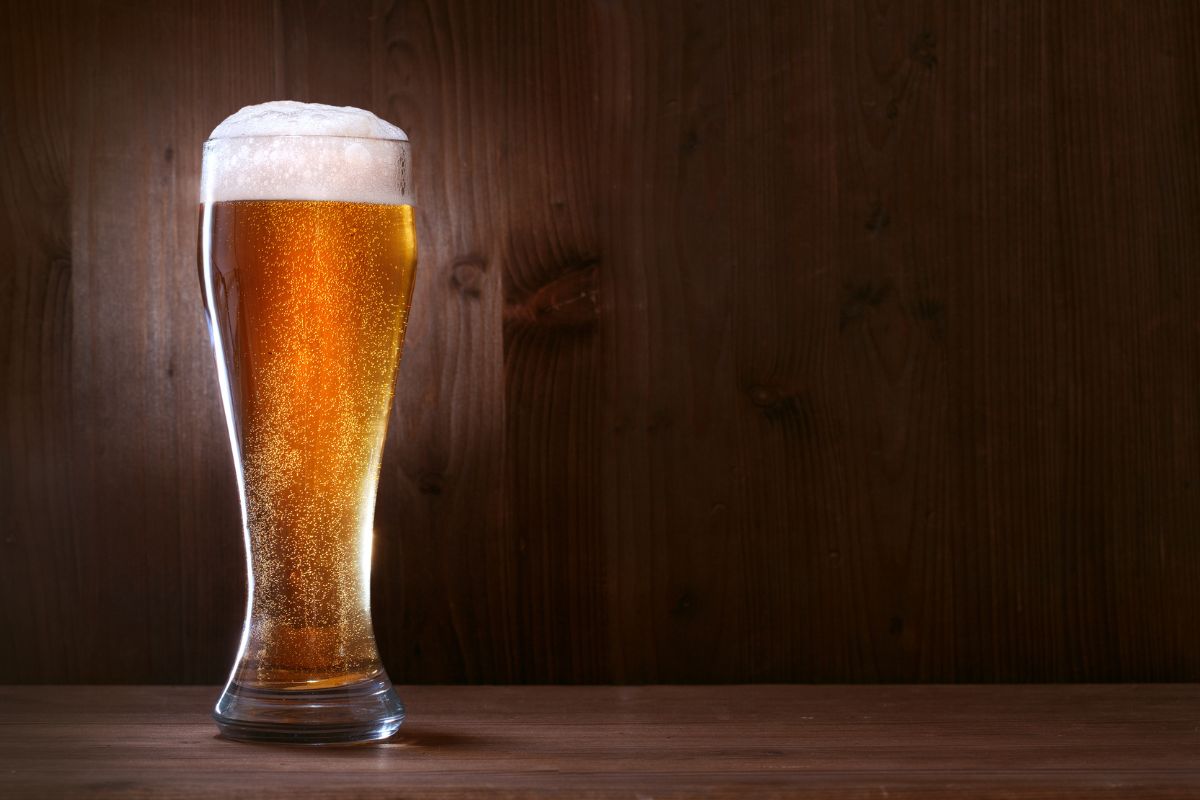 Below are 6 delicious Irish beers that you can try (see also: 9 Delicious Australian Beers To Try Today)to start your research into the culture of Ireland.
From the iconic dark Guinness to the more refreshing taste of The Five Lamps there is something for everyone to enjoy. Even if you aren't the biggest beer lover.
Check them out below!
Is there really any other way to start this list than with the famous Guinness beer? The recipe for Guinness was created in 1759 and has become one of the most popular beers in the world.
It was developed by Arthur Guinness, a brewer at St.James Gate Brewery in Dublin.
Today you can find a Guinness product in the farthest corners of the world. From South Africa to China you can find it almost anywhere and enjoy its rich taste.
Guinness is known for its almost black color but with a little research, you will discover that it is actually a deep ruby red color with a creamy white foam on top. However, it is loved for its flavor.
With strong notes of coffee, it has a bold bitter flavor with the smooth undercurrents of chocolate.
Perfect as a dessert!
This dark beer is made from malted barley, barley, roasted barley, hops, nitrogen, and yeast. This is what gives that smoky flavor and makes the drink creamy and perfect.
Today you can get Guinness in a range of forms from bottles to cans. However, the best way to experience the beverage is in a chilled glass from the spout and allow it to settle before taking that perfect first sip.
Make sure to enjoy with loved ones and savor every sip!
Established in the early 1700s, John Smithwich began the Smithwick's Brewery in the small town of Kilkenny.
Now, Smithwick could not own the brewery property on his own due to the Catholic penal laws and was forced to go into business with Richard Cole and the rest is history.
Nine generations later and the Smithwich name is known in every bar, restaurant, and home in Ireland.
Smithwick's Brewery focuses on two ales and we are going to focus on the Pale Ale. The award-winning Smithwick's Pale Ale, which has a deep golden color, was created using traditional Brewery recipes.
This golden malt beer is fruity and grassy, and it has a long finish that is full of flavor. For a richer, fruitier flavor, fragrant Amarillo hops are used in the brewing process.
The brand also produces Smitchwich's Red Ale which is more bitter than its counterpart. It is made from sweet malt, roasted barley, and mild hops that give it a balanced taste.
You can find Smithwick ales in most liquor stores and other licensed premises in the states. You just have to do some digging. This beer is perfect for keeping in the home when you need something refreshing and calming.
For fans of Guinness who want to try something new, Murphy's Irish Stout is brewed in Cork and is a great alternative. If you cannot find Guinness in a bar (which is highly unlikely) then you are sure to find Murphy's.
This beer was brewed in Lady's Well Brewery in 1856 and has been a staple in Irish drinking culture since. It was introduced to the rest of the world when the Dutch brewers of Heineken took over the brewery in 1983.
Murphy's Irish Stout has a rich malt flavor that is balanced with toffee and slight hints of coffee. It is commonly described as an alcoholic chocolate milk.
Beyond flavor and texture, Murphy's is similar to milk because it lacks any hints of carbonation and is served as a "black as strong cappuccino" with an inch of creamy foam on top.
Basically, if you love an espresso martini you are going to love this stout.
Today it is rather difficult for anyone outside of Ireland to find Murphy's Irish Stout on draught. But it is extremely common to find cans of rich beer in liquor stores or even behind bars in restaurants.
It is not a beverage that is often served with a meal as it is thick and heavy but it can be enjoyed with some light appetizers or even dessert. The rich chocolate flavor pairs perfectly with a delicious chocolate fudge cake or tiramisu.
The O'Hara family took the leap of faith in 1996 and began their brewery with their debut lager. It is a new brewery in the lands of Carlow as it became famous for having the best malt barely cultivated in the country.
As Ireland's name for being one of the top brewing countries in the world was slowly being washed away, the O'Hara family was ready to put them back in the running.
The family are heavily involved in the progress of the beverage industry and even co-founded The Irish Craft Beer & Cider Festival.
O'Hara's Irish Craft Lager is brewed as a Helles traditional lager. O'Hara's Helles is higher in bitterness than mainstream lagers and gives a distinctive bite with a clean, balanced finish.
It has been hop-hopped numerous times to create a unique blend of textures and aromas.
It is a rather bitter lager and is crafted to a more experienced beer drinker. However, it is a well-bodied beer with a classic malt and yeast strain that helps it become more balanced.
It is commonly enjoyed with a refreshing meal such as lemon chicken, a grilled dish, or a delicious Spanish paella.
With this ale, we are heading back to the town of Kilkenny to check out the Malting Irish Red Ale of Sullivan's Brewing Company. It all begins in the early 1700s, 1702 to be exact, by Mr. Sullivan.
Each ale that is produced by Sullivans is brewed in small batches. This means you get the best quality beer every single time you open a Sullivans Malting Irish Red Ale.
Now, the Red Ale is the perfect beer that combines deep malt barley with soft tones of caramel and biscuit for a delectable taste.
It was created in 1845 when the Great Potato Famine consumed the nation.
Staff from the brewery provided wholesome meals to individuals in need using many of the same components used to make Sullivan's Red Ale, giving the phrase "On The Soup" a whole new meaning.
This ale is deeply tied to the history of Ireland and is the perfect way to understand their culture. All with one sip.
Whiplash is an extremely new brewery on the scene having only been established in 2016. But they are making a splash in Ireland and in the rest of the world.
It began as a passion project for the co-founders and is now a fully operational brewery in Ballyfermot.
The brewery has a wide range of products and has been awarded various awards from around the country. They produce craft ales, dark beers, IPA, and DIPAs.
You can even create your own 'mixtape' of beers and try out a few from their website.
The Body Riddle Pale Ale is one of their best-selling products. It is a bright fruity American pale ale that takes on tropical flavors of pineapple and passionfruit.
You can easily chug this beer down as a thirst quencher or take your time to savor the citrus flavors that are held beneath a foamy white head.
This is the perfect beverage to enjoy at the family BBQ or with a summer meal such as a salad or even roast chicken. It is light enough to enjoy with food without being too overpowering.
Enjoy straight from the can or carefully pour into a chilled glass for an elevated experience. It also works great in various cocktail recipes for that added tropical touch.
Whiplash Body Riddle Pale Ale is a great ale for anyone looking to enter the world of beer. It is sweet, fruity, and delicious.
Final Thoughts
Ireland is a wonderful place with potatoes, an adorable accent, and some of the best-tasting beers in the world.
Whether you enjoy the fullness of a dark beer or need something more refreshing and fruity, there is a beer to satisfy you. Above are 6 delicious Irish beers for you to discover and love.
Some come from breweries that are centuries old while others are less than 10 years old. Regardless you have to try their beer (see also: 9 Delicious African Beers To Try Today)and experience a true taste of Ireland.
Latest posts by Rees Vaughn
(see all)