While visiting the state of Maine may not currently be on your bucket list. Or on any list. It most definitely should be.
This rather large state is holding on to the unofficial title of Beer Capital of the US. While Kentucky has bourbon, Maine has beer.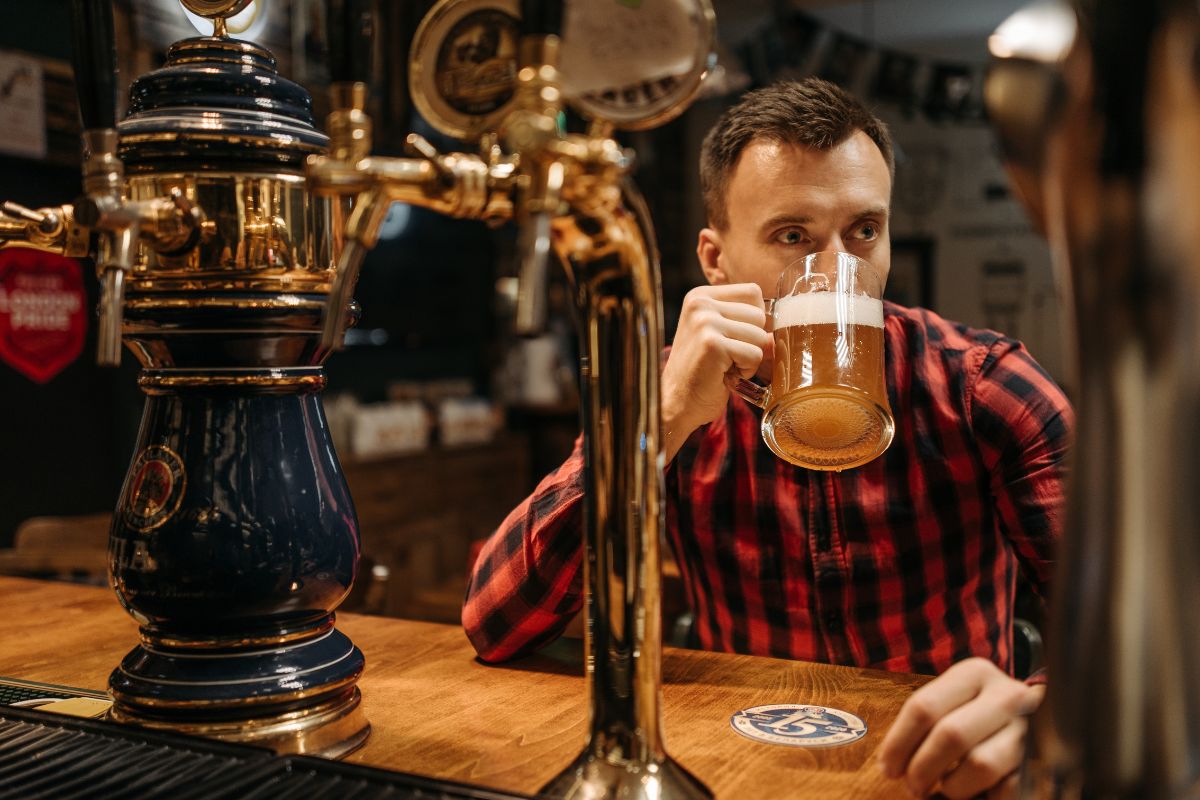 Whilst enjoying exploring the city of Portland you should take the time to check out their various breweries(see also: 8 Unmissable Traverse City Breweries You Need To Check Out).
Below are 7 unmissable Maine breweries (see also: 10 Unmissable Dallas Breweries You Need To Check Out)where you can discover incredible craft beers and make some unforgettable memories.
Each brewery has something unique to offer and you just have to pay them a visit to find out what. 
Check them out below!
Allagash Brewing Co. is extremely well-known throughout the state of Maine. It has worked to become a sustainable business that produces some of the best quality beer around and that is why it is at the top of this list.
If you want to see what goes on behind the scenes then you have to book in for one of their tours. The Cellars at Allagash was created to provide visitors a special beer-focused experience.
Small groups of visitors will partake in a curated tasting session conducted by their knowledgeable staff where they will try a variety of unique beers.
Landed with being the designated driver? Get your ticket at a discounted price!
For a more relaxed experience, visit their Tap Room. Try the beers that are only sold at the brewery, and pick up special bottles to take with you.
Although Allagash may not be the most attractive brewery on this list, they have repeatedly shown their superiority.
Make sure to test their infamous Allagash Hop Reach IPA. Hops push for the sun higher and higher, bursting with citrus and tropical taste.
These luscious hop flavors emerge in the Hop Reach IPA, giving it a full-bodied and reviving flavor.
Allagash Brewing Co. is a great place to discover the culture of Maine. Right in the heart of the city of Portland, you will discover flavors you never thought possible!
Austin Street is a sly fox when it comes to growing beers. It has grown to be a local favorite without the noise and chaos that many brands use today.
It has grown so rapidly that they had to open a second location on Fox Street in 2018. So. Now you have 2 options when it comes to tasting their beers. 
Many Austin Street Brewery fans love the Florens American India Pale Ale. A double dry-hopped IPA, Florens has plenty of Mosaic, Citra, and Ekuanot hops. 
The flavors of grapefruit and pineapple predominate in this highly aromatic beer. Finishes with a hint of sweetness and just the right amount of bitterness.
If that doesn't sound like your thing, the brewery has plenty of other options for you to try(see also: 10 Best Cleveland Breweries To Try Today).
Now depending on the location you visit, you can expect a delicious menu of beers on tap, can pours, and to-go beers.
For those not drinking alcoholic beverages there are plenty of alcohol-free options. From HIT N/A Beer to juice boxes to Spindrift Seltzer. 
They combine and package all of their aged beers at Oxbow Blending & Bottling, which is situated in Portland's thriving East End area.
The mixed-culture and spontaneously-fermented farmhouse ales are stored in dozens of stainless steel tanks in addition to the numerous oak barrels.
Oboe Blending & Bottling does so much more than brew beer. Their large urban bar and event space has become a local hub. Here you can catch a live DJ set, live bands, wine and cheese tastings, fly-tying classes, and even yoga sessions!
Located on Washington Avenue, you are just a short walk away from various sights and attractions in Portland.
During your visit to this awesome brewery without trying some of the Luppolo Italian Style Pils(see also: 8 Best Birmingham Breweries To Try Today). It is a light pils that is brewed using European malts and hops. Perfect for a night watching the sunset and enjoying the city of Portland.
Additionally, they have a partnership with the acclaimed Duckfat to serve food with a Belgian influence in their beer garden. Purchasing a side of frites is essentially required.
Bar Harbor's Atlantic Brewing is a family-run brewery that is encircled by Acadia National Park. The Lompoc Cafe, in the heart of Bar Harbor, is where the brewery was established.
Today, Atlantic Brewing Company is a cornerstone of the community as it hosts Mainely Meat BBQ. It also opened a downtown Bar Harbor in 2017 where you can taste the beers produced by the brewery and even enjoy some specialty batches.
After a day of hiking in Acadia, ABC is a deserving stop because of its inside biergarten-style tables and fantastic outside beer garden (nearly literally).
The brewery is passionate about the beer it creates and still produces its debut recipe. Bar Harbor Real Hale was created in 1991 and is the perfect beer for relaxing.
This beer brings together a variety of hops and malts that are topped with sweet caramel notes that give balance and body. 
However, many visitors cannot resist the flavors of Coal Porter. Created in 1993, this porter is dark, rich, and heavenly.
Using their infamous hops and malt combination and then adding rich, chocolate notes on top. It is hard to say no when offered a glass of this dark beer. 
Don't forget to sign yourself up for one of their tours in the summer. This short tour completely immerses you in the process of brewing high-quality beer.
Or check out the tasting room to enjoy some delicious flavors that you won't find anywhere else. 
Brothers Noah and Peter Bissell founded Bissell Brothers in November 2011 in response to Noah's love of homebrewing and Peter's growing interest in and expertise in entrepreneurship and marketing.
Taking their dream from the small town of Milo and opening up a shop in Portland, these two brothers are the definition of creativity, drive, and passion.
Bissell Brothers Brewing Company has quickly become a favorite in Maine. 
Given that The Rink is immediately next door and the brewery has a sizable taproom located at Thompson Point, it is the ideal location for a Skate & Slake.
Customers will leave the historic railway building satisfied after sampling the restaurant's gourmet fare and hopped ales from local farms, fisheries, and foraging.
Look at The Substance, Swish, or Angels with Filthy Souls if you need help picking a beer. 
For those with more adventurous taste buds, you have to try out the Spruce Tip Substance which is rich and extremely dark.
The brewery and its restaurant, Three Rivers, is open 7 days a week and are ready to welcome you with open arms. 
Bissel Brothers are all about being creative and are ready to pour you a beer that will blow your mind.
Federal Jacks is one of the oldest brewpubs in the state of Maine and it gives one of the most spectacular views of the Kennebunkport harbor.
Fred Forsley, a businessman, and Alan Pugsley, a master brewer, founded Federal Jack's and the Kennebunkport Brewing Company (KBC) in 1992.
Word quickly spread about the delicious ales that were being brewed at Federal Jack's and the rest is history. 
Federal Jack's has a full-service restaurant that welcomes thousands of patrons every week. Their menu is full of some yummy goodies including their infamous Pineapple Upside-down Cake.
Call it a day by ordering the Brew Pub Poutine and a Bluefin Stout. You can also choose to get a flight of beers. A monthly cask-conditioned release is also available.
The Maine Beer Company began in 2009 by two brothers who wanted to make the community great through their awesome beer.
They make some incredible IPAs and pale ales that make Maine worth the journey. They have a large range of beers and each one has a unique story to tell.
Zoe is their amer ale named after one of the founders' daughters. It is a happy, joyful amber ale that is made to bring happiness everywhere it goes!
If you are looking for somewhere to rest up and enjoy some food then you have to book a table at their Tasting Room. Wth some delicious pizzas and snacks on the menus it is the perfect place to relax and enjoy some unique beers.
For days when you are really in a rush or looking for the ideal gift, purchase some of their Bottles to Go and keep it chilled for when the moment is right.
Final Thoughts
Maine is an unsuspecting state that not many people take the time to explore. But once you do, you certainly won't forget it.
With endless hiking trails, lighthouses, and of course some delicious seafood, there is plenty to keep you busy. 
Above are 7 unmissable breweries in Maine that are unique and definitely worth the visit.
Take the time to tour the processes of brewing beer or head to their tasting rooms to enjoy the creations straight from the tap.
Latest posts by Rees Vaughn
(see all)