Texas is home to some of the best craft breweries in the country, and Dallas has its fair share of amazing ones.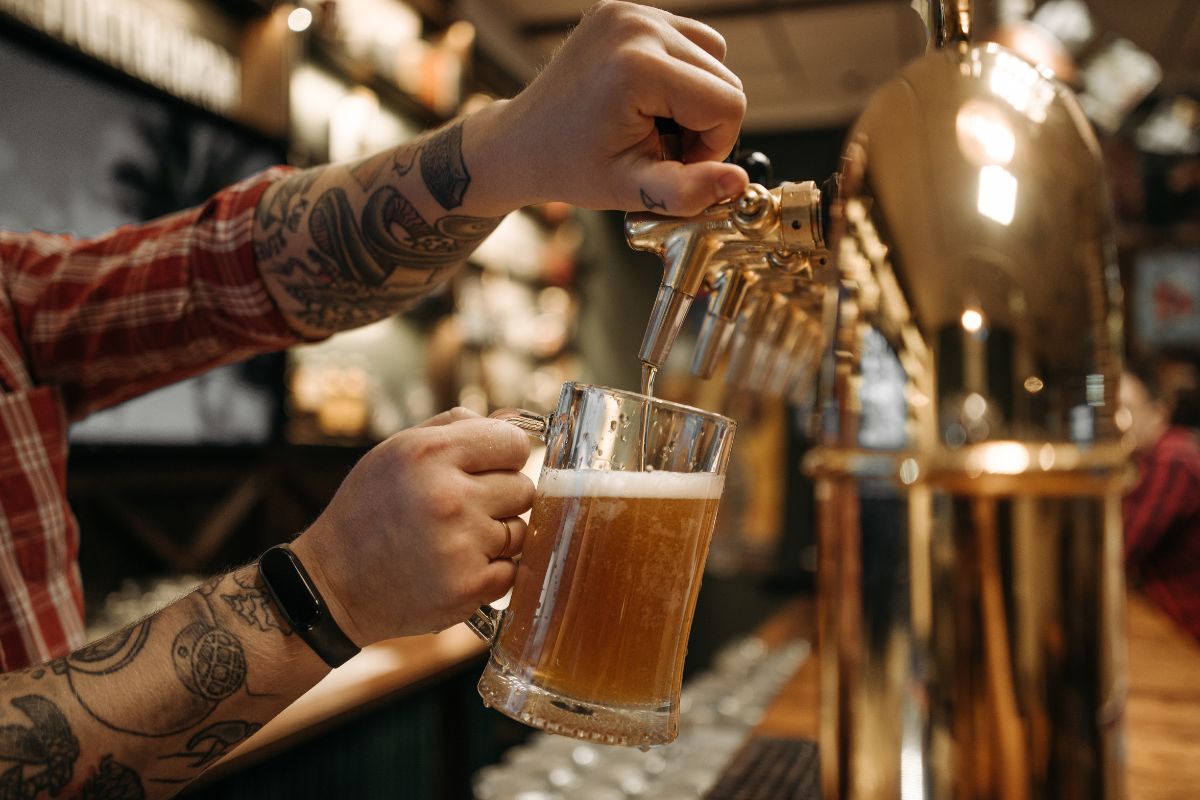 From local favorites that have been around for years to newcomers making their mark on the scene, there's something for everyone when it comes to beer in Dallas.
Whether you're a fan of IPAs or stouts, sours or lagers, here are 10 unmissable Dallas breweries you need to check out.
Four Corners Brewing Company is an unmissable Dallas brewery. Located in the heart of Trinity Groves, they have become a neighborhood hub for people to come and enjoy their craft beers.
The company started in 2004 brewed in a kitchen and fermented in a bathtub! The experiment paid off and the Four Corners Brewing Company was born. 
Their taproom offers plenty of seating with a great atmosphere where you can relax and chat with friends or just take in the view from their expansive windows overlooking downtown Dallas.
The staff are friendly and always happy to answer any questions you might have about their brews. They also offer food from local restaurants, so if you're feeling hungry after downing a few pints then you won't be disappointed!
Each year Four Corners releases several limited-edition seasonal ales which are sure to tantalize your taste buds.
Deep Ellum Brewing Company is one of the most popular breweries in Dallas. It's located just outside downtown, and offers a wide variety of craft beers to suit any palate.
The taproom has an inviting ambiance that encourages conversation with friends, where you can sample their delicious drafts or buy cans to take home.
The bar staff are friendly and knowledgeable about the beers they have on offer and will help you find something new to try if you're feeling adventurous.
This brewery isn't afraid to experiment either; from barrel-aged stouts to fruited sour ales – you won't be disappointed! Here are four reasons why Deep Ellum Brewing Company should be your next stop:
Creative craft beers
Inviting atmosphere
Year round events
Experiments with unique style
Food options if you're feeling peckish
The next brewery to explore is Westlake Brewing Company. Located in the heart of Dallas, this lively spot has a selection that will please any beer lover.
With its spacious outdoor patio and variety of brews, it's no wonder why people flock to Westlake for their favorite craft beers.
Westlake offers both traditional as well as experimental styles on tap. Their signature beers are brewed with locally-grown hops, giving them an authentic Texas flavor you can't find anywhere else.
Plus, they offer growlers so you can take home some of your favorites!
Whether you're looking for a post-work pint or just want to try something new, head over to Westlake. They have rotating taps and seasonal selections that keep things fresh and exciting all year round.
Pegasus City Brewery is an unmissable destination for beer lovers in Dallas. Located in the historic Design District, it's a cozy and inviting spot that features some of the city's best craft beers.
The brewery has several house-brewed options on tap, with everything from IPAs to sours. They also have seasonal offerings – like their popular Pumpkin Ale during fall months – as well as special releases throughout the year.
The atmosphere at Pegasus City Brewery is relaxed yet vibrant. There are plenty of tables both inside and outside so you can enjoy your brew al fresco if you'd like.
Plus, there's often live music playing which adds to the fun vibe of the place. 
On Rotation Brewery And Kitchen is another unmissable brewery located in Dallas.
This unique brewery serves up delicious craft beer alongside a variety of other beverages like kombucha and cold brew coffee. They also offer an eclectic food menu with items to satisfy any appetite.
On Rotation's taproom offers plenty of seating options for guests and a relaxed atmosphere perfect for gathering with friends or enjoying some alone time.
The bar staff are friendly and knowledgeable about the various beers that they serve, and will happily help you decide which one is right for you. Plus, their rotating selection ensures there's something new to try each visit!
Celestial Beerworks is an unmissable Dallas brewery that you need to check (see also: 10 Unmissable DC Breweries You Need To Check Out)out. Located in the heart of East Dallas, it's a cozy spot perfect for enjoying their carefully crafted beers and home-style food.
Their diverse selection includes IPAs, sours, lagers, stouts and more. They also offer special seasonal varieties depending on what's available. 
The atmosphere at Celestial Beerworks is relaxed and inviting – they have plenty of seating space both inside and outside, as well as TVs showing sports games and other events.
The staff are friendly and knowledgeable about their beer offerings, so don't be afraid to ask questions! 
On top of great beer, Celestial Beerworks has delicious eats like pizza, sandwiches and salads – all made from scratch using fresh ingredients. What's not to love?
Texas Ale Project is a must-visit brewery in Dallas. Located close to downtown, the taproom offers a wide variety of beers for everyone's tastes from light and refreshing ales to bold and complex stouts.
The atmosphere is inviting and relaxed; visitors can enjoy their beer while taking in the views of downtown from the outdoor patio or grab some food off one of the rotating local food trucks parked outside.
The Texas Ale Project team works hard to create unique, high quality beers with artistic labels – all brewed onsite using locally sourced ingredients when possible.
Their popular brews include "100 Million Angels Singing," a double IPA made with Texas malt and hops, as well as "Fire Ant Funeral ", a popular amber ale. 
Other than these flagship offerings, they also have seasonal releases such as "Maverick" bourbon barrel aged imperial stout and "El Chingón" chili pepper porter.
White Rock Ale House And Brewery is an unmissable spot in Dallas. It's a great place to go for craft beer enthusiasts and casual drinkers alike.
First up, the selection of beers available at White Rock is impressive. From classic IPA's to full-bodied stouts, there's something here that everyone can enjoy!
Plus, they often have seasonal offerings so you're always sure to find something new to sample. Here are three highlights:
A crisp Belgian Witbier
An aromatic Pale Ale
A smooth Oatmeal Stout
The atmosphere at White Rock is just as inviting as the menu, with plenty of seating both indoors and out.
Whether you want to take it slow and relax or get rowdy on one of their trivia nights, this brewery has got you covered! The bar also serves snacks like wings and pretzels – perfect for pairing with your pint.
Oak Cliff Brewing Co. serves up a wide selection of flavorful craft beers, each with its own unique character and style. They also offer a variety of rotating seasonal beers that are sure to please even the most discerning beer drinker.
The atmosphere at this spot is relaxed and inviting; it's easy to spend an afternoon here enjoying great company and fantastic drinks.
As far as their food menu goes, there's something for everyone – from classic pub-style dishes like burgers, wings, and sandwiches to vegetarian options like salads and tacos.
Their specialty pizzas are especially popular among regulars. All ingredients are fresh, locally-sourced whenever possible, making for an excellent dining experience.
Craft and Growler is an unmissable Dallas brewery. Located in the heart of Deep Ellum the taproom features a wide selection of craft beers on tap.
There's even a curated list of hard-to-find selections from around the world. On top of their beer offerings, there are plenty of other activities available to keep you entertained while enjoying your pint.
The atmosphere at Craft and Growler is warm and inviting, with eclectic artwork adorning the walls and cozy seating arrangements that make it feel like home.
You can also purchase growlers so you can take your favorite beer home with you or share it with friends who come over later in the evening. They also sell bottles so you don't have to worry about running out too quickly!
Conclusion
I'm sure you're ready to get out and explore the amazing breweries Dallas has to offer. From Four Corners Brewing Company to Pegasus City Brewery, these spots have something for everyone!
Whether you're looking for a unique beer selection or an inviting atmosphere, Dallas won't disappoint.
Latest posts by Rees Vaughn
(see all)