When it comes to alcohol France is more known for its delicious wine and extravagant champagne. As you walk the streets of Paris or Brittany you will see everyone soaking in the sunshine sipping on a chilled glass of wine.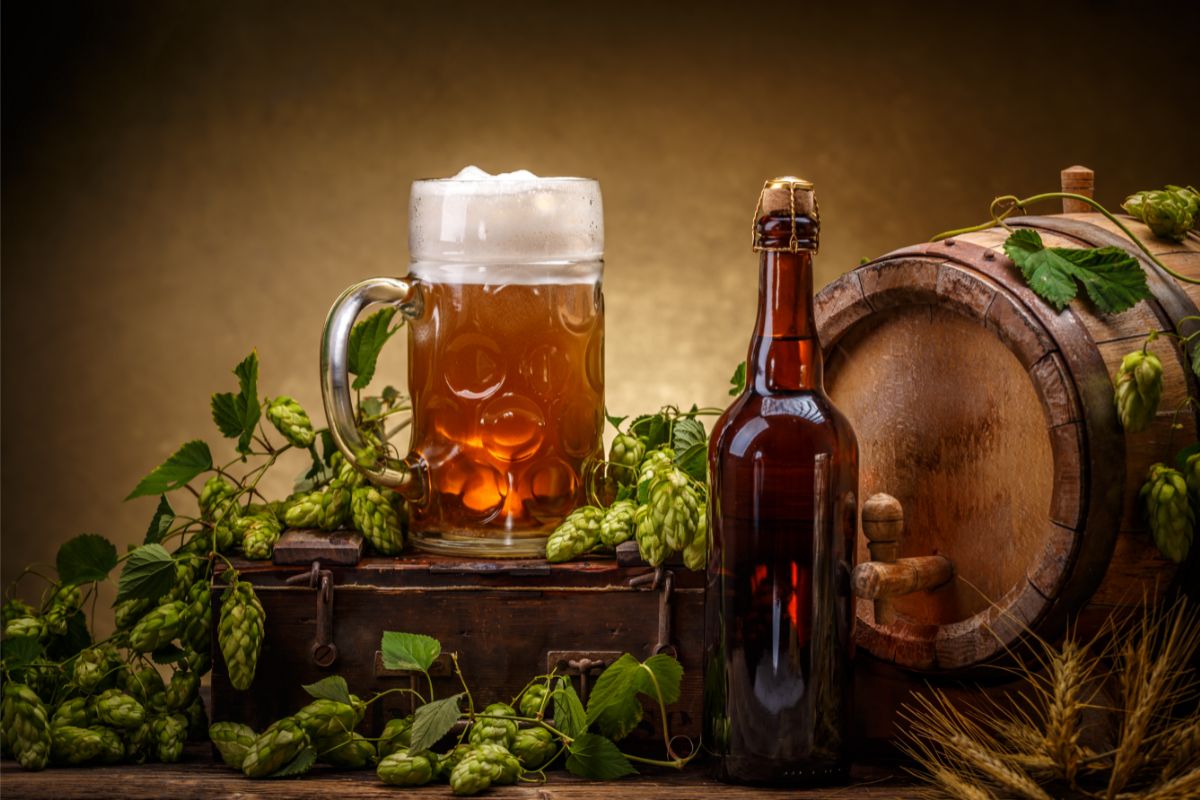 However, France also produces some excellent craft beers. From dark beer to a light larger there is something for everyone to enjoy while they relax.
Below are 6 delicious French beers that you can try and love today(see also: 8 Delicious Thai Beers To Try Today)(see also: 10 Best Chattanooga Breweries To Try Today)(see also: 3 Best Chicago Breweries To Try Today). While using traditional brewing methods, there is of course a French twist involved that gives each beer that special edge.
Let's get into it!
Kronenbourge 1664 Blanc is one of the most classic beers from France and has been in production for over 350 years. It was created by a young Jerome Hatt in a single barrel and is now enjoyed by people all over the world.
1664 Blanc has a distinct taste and gorgeous smoothness that cannot be compared. It is a premium French wheat beer with a delicate taste of citrus fruits and coriander spice. Brewed with a gentle French touch it is the beer of excellence.
This luxurious beer has a hazy golden color and should be served with a satisfying creamy head. The subtle fruitiness of apricot and peach balances out the bitterness of the coriander and citrus notes.
Kronenbourg 1664 Blanc is traditionally served in a chilled bottle before being slowly poured into chilled glass. Enjoy this beer on the sandy beaches of Saint-Jean-de-Luz or in the busy streets of Paris.
The brand La Biere des Sans Culottes was first created in 1983 to honor the revolutionaries of 1789. However, the brand struggled to become a serious competitor in the French beer industry.
The brand then regrouped and came together to become a popular beer for festive and original beers. Now, the brand has a range of products that cater to a wide variety of tastes.
The Full-Bodied Blonde is one of the most famous beers from the La Choulette brewery. It is a light gold in color hence the blonde description and is even lighter on the tongue making it easy to sip and enjoy.
This light beer pours a deep gold color that is a stark contrast to the flavors inside. Bière des Sans Culottes Blonde offers up a floral bouquet of honey, spices, and caramel.
The flavor is rich, with honey and caramel mingling with spicy yeast flavors. Buy Bière des Sans Culottes Blonde to explore a French blonde ale with a sweet, rich flavor.
It is perfect when enjoyed with friends or family on a hot summer day. Make sure to serve straight from the fridge so that it is chilled and crisp from the very first sip.
La Bier Sans-culottes are not afraid to experiment with flavors and have produced some incredible beers. The Cherry Sans-culottes are a popular choice among those who prefer something sweet or the Amber Sans-culottes have a fragrance of malts and spices.
There really is something for everyone.
Grimbergen was originally a Belgian beer, but since 1989, it has been made in France, so it is now recognized as a French beer. It was created in The Grimbergen, has been brewed since 1128 and has become a staple in French culture.
This small-local beer has grown to be loved by nations and brings together tradition and modern techniques.
The Grimbergen pairs perfectly with a range of light dishes such as lemony mussels or creamy shrimp pasta. This is due to its ripe citrus flavors that are balanced with notes of clove that are all topped with a thick, creamy foam.
Ripe fruits, spices, and honey predominate in Grimbergen Blonde's scent, and sweet and bitter flavors combine in the body. Immediately coming to mind are associations with pineapple, licorice, pear, and clove. Exceptionally complex, persistent, and perfectly balanced.
Many people in France and Belgium use The Grimbergen Blonde in their cooking when cooking flavorful meats. It works perfectly in casserole dishes and pasta to help bring balance and acidity.
Another favorite is the Grimbergen Double Ambree which is a malty Dubbel-style beer with rich yet bittersweet flavors. This is enjoyed throughout the festive season while The Grimbergen Blonde is enjoyed in the warmer months.
The Goudale Brewery began in 1919 under the name Great Brewery of the Children of Gayant. It would only sell to the homes in the local area and was a great hit. Today it employs almost 100 people and is an essential part of the French beer industry.
You can enjoy this beer with a traditional French meal or when taking in the views of the French coast. The brewery uses special malts that ensure its flavor is crisp and light while being tasty.
It is made from Flemish hops, coriander, and orange peel that bring a refreshing undertone to this blonde ale. Topped with creamy foam it is pleasant with an almost bitter finish that lasts in the mouth bringing you back for more.
If you enjoy something with a little more depth, The Goudale Ambree is a spectacular beer. With a deep amber color, it has notes of coffee with chocolate and hazelnut. Sweet and spicy.
The Goudale Blonde comes in a variety of forms including 2 bottle sizes and a can. While you can enjoy it straight from the packaging, we highly recommend pouring the beer into one of their signature glasses.
Perfect for relaxing at home or in a beer garden throughout the summer. 
This is not known to many but the tequila-infused beer is originally a French brewed beer. It was bought over by the French branch of Heineken and is still brewed in France.
It is a beer targeted at young people, and as may be expected, the tequila aromas and strong, nuanced, and distinctive flavor have seduced the youth market.
It is more commonly enjoyed outside than in restaurants and bars. However, it is considered more upmarket than cheaper beers such as Kronenbourg. 
The Original Desperados is the world's first Tequila flavored beer. Since its inception, this unique blend of full-bodied lager and a boost of Tequila flavor has been upending the traditional beer market. A sweet, peppery, and lemony flavor profile that is light and pleasant.
There is no other way to enjoy this beer than having it chilled with a slice of fresh lime wedged into the top of the bottle. However, a slice of lemon will suffice if you have no other option.
Desperados offer a variety of tastes, including the Virgin, which is alcohol-free, the Mojito, the Ginger with ginger, the Lime and Cactus, and the Red with guarana and cachaça. Each one is refreshing and crisp to keep you cool on a hot summer's day.
The Desperado also works well in a range of cocktail recipes due to its distinctive flavor. Perfect if you want to switch up a Tequila Sunrise or enjoy a slightly more carbonated Margarita.
A beer made in the French Flanders region and named after the three mountains that surround the brewery, 3 MONTS. In 2020, this brewery celebrated its 100th birthday, and the owners are pleased to have kept it a locally and family-owned business.
The brewery has a wide range of products but the most popular is The 3 Monts Biere De Flandre. This is one of the oldest recipes from the brewery and continues to be a favorite among beer lovers.
It is a blond beer with a high fermentation rate and 8.5% alcohol by volume. To liberate the flavor of wheat, berries, and licorice in its bitter climax, it is best sipped between 8°C and 10°C.
The barley is grown in the Nord department of France which gives it the iconic fruity flavor. A very specific variety of yeast and hops are used to ensure the bitterness is balanced and not too overpowering.
One of the uncommon beers on the market that only has barley malt, hops, and water—no extra sugar—is this one. Although this beer is not widely advertised, consumers still consider it to be one of the best bière de garde (beer for keeping/of keeping).
This means you may have to do some digging to find this beer but it is worth it. Make sure to keep it chilled and serve in a tulip glass for the best drinking experience.
Final Thoughts
The people of France are extremely proud of their culture. From fashion to wine, they take pride in everything they do. Beer included. From refreshing blonde ales to rich amber lagers, you are going to love each one differently.
Above are 6 delicious French beers that will have you booking flights immediately. Some are new to the beer market while others are steeped in history and tradition. You just have to try them all and discover which one you like best. 
Remember to savor every sip!
Latest posts by Rees Vaughn
(see all)