If you're not familiar with Oregon's brewery scene, allow us to let you in on a (not so) little secret – there are plenty of breweries to check out in the area.
So many, that you may be feeling a little spoiled for choice.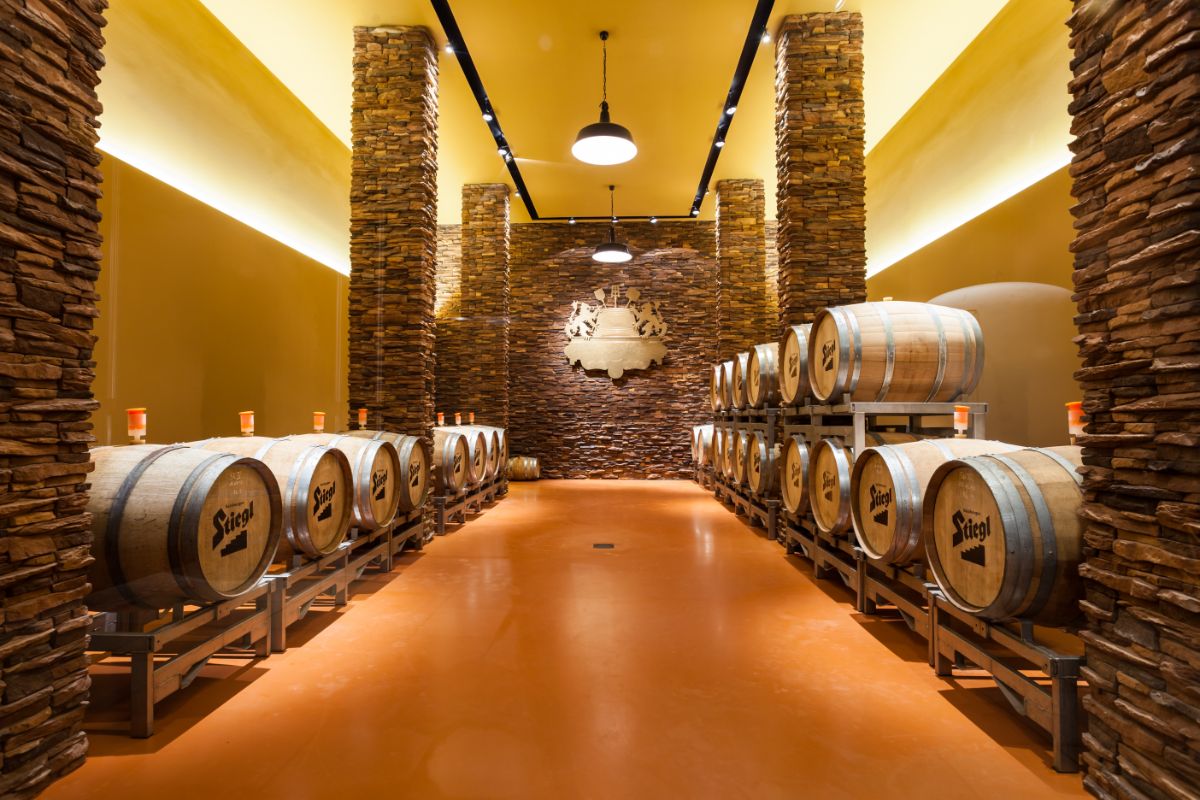 So, if you want to get familiar with some of the most popular breweries in the area, we're here to help.
Here's our roundup of five of our favorite breweries in the whole of Oregon, including family-friendly establishments, to more traditional brewery experiences. 
13851 Beavercreek Rd c104, Oregon City,
OR 97045, United States
First up, we have Shattered Oak Brewing in Oregon City, Oregon.
Shattered Oak is a small-scale Oregon brewery that serves Oregon and the surrounding communities, and it serves its guests a delicious variety of beers, ciders, and mead, (see also: Is Mead Carbonated?)in a welcoming and ambient environment.
Shattered Oak Brewing has been established in Oregon since 2015 and has built itself a great reputation over the years. 
Some of the most popular drinks cooked up at this microbrewery include:
Shattered Oak Altbier (5.1 ABV)
Shattered Oak Amber (5.5 ABV)
Shattered Oak British Pale Ale (5.5 ABV)
Shattered Oak Headless Horseman (4.5 ABV)
Expect your beers and ales to have hints of spice and fruit, with hoppy aromas and a crisp finish.
Shattered Oak Brewing is situated inside a separate dining establishment, The HiVe Taphouse, which makes this a little different from other breweries.
At The HiVe Taphouse, you can dive into a beautiful collection of beers brewed onsite, and offered by both Shattered Oak and another local brewery, New Ancients Brewing.
You can also enjoy your beers alongside food from the HiVe Taphouse menu, and if you want to combine this unique brewery and restaurant experience together even further, you can hire the venue out for events! 
This establishment has been described as something of a 'hidden gem'. It isn't the most popular brewing establishment you'll come across, but it never fails to disappoint.
The HiVe Taphouse has been up and running since 2017, and it also hosts many local social and musical events, making it a truly special atmosphere to enjoy your brewing experience in. 
1174 OR-99W, Dundee,
OR 97115, United States
Next on our list is a more traditional brewery experience, with Barn Door Brewing.
Barn Door Brewing is a friendly, welcoming brewing located in Dundee, Oregon, that produces a highly sought-after collection of crisp craft beers and ales.
Barn Door Brewing has really made its mark in Oregon's brewery community, with the likes of some truly special drinks such as Matcha IPA, a seasonal beer that's a one-of-a-kind blend of Northwest IPA and Japanese matcha.
This drink has an ABV of 6.6%, and it uses Western US barley, cascade hops, matcha tea, and winter barley, making it one of the most unique IPAs not just in Oregon, but arguably the whole country! 
At Barn Door Brewing, you can enjoy the likes of Matcha IPA and some other truly special drinks, in a friendly, accessible, and welcoming atmosphere.
Barn Door Brewing has a casual, ambient atmosphere that offers both indoor and outdoor seating.
Although they don't serve food at the brewery, this is still a fantastic place to stop by for a unique drink in a pleasant atmosphere.
If you're not keen on the busy wine bars and clubs in the area, you'll love the experience offered here. 
You'll also find a variety of other impressive drinks on tap here, including Apricot Cream Ale, Slow Heat Habanero Pale, and Cranberry Kolsch.
If you like your beers hoppy, crispy, fruity and sometimes earthy and nutty, you'll love working your way through the menu here at Barn Door Brewing.
This is one small, family-owned and operated brewery you won't want to miss during your time in Oregon. 
14214 Fir St, Oregon City,
OR, 97045, United States
Coin Toss Brewing is another of Oregon's most popular small breweries, and it can be found in the heart of Fir Street Business Park, Oregon.
Coin Toss Brewing has an impressive selection of signature brews available for you to try, and they even offer home delivery seven days a week, so you have no excuse not to get your hands on one of these delicious brews! 
At Coin Toss Brewing, you can try any of these delicious brews by the pint, growler, (see also: What Is A Growler?)crowler, or keg.
Pizza nights are also hosted at the brewery, as the pizza truck stops by on some Fridays and Saturdays, giving you the opportunity to dive straight into a beautiful slice alongside your new favorite beer. 
Coin Toss Brewing has a few local favorites on its menu, including Pale it Forward, an American pale ale that has a beautiful collection of caramel notes, crystal rye, and an ABV of 5.2%.
If you fancy something a little stronger, why not try the All Sorts Strong Ale, which certainly lives up to its name.
This may just be one of the strongest ales in Oregon coming in at 10% ABV, and aged for four months in whiskey barrels. 
The brewhouse even regularly hosts live music events, making it the perfect place to kick back and unwind with friends and family after a long day.
You'll also notice that Coin Toss Brewing has an impressive, friendly atmosphere, and once you're a part of it, you'll feel more like you're part of a community than a brewery.
If you're a local, this could soon become your new favorite spot. If you're just passing through, it's destined to become a place to remember.
You won't want to miss the opportunity to pay this beautiful brewery a visit! 
395 2nd St SE, Bandon,
OR 97411, United States
If you're looking for a brewery that offers great local beers as well as great food, get ready to check out Bandon Brewing in Oregon. Bandon
Brewing has a pretty expensive food menu to compliment your drinks, serving everything from pizza and delicious appetizers, to soups and salads, sandwiches and burgers, and even breadsticks!
There's even a special kids menu on offer, meaning you can treat the whole family to something special here while you get well acquainted with that all-important beer and ale menu. 
This brewery offers both indoor and outdoor seating, and it can be found at the entrance of Old Town Bandon.
Although the food is certainly a highlight at this unique brewery, there are also 14 taps available, each serving an eclectic mix of craft beers, and the Brandon Rain ciders are always a hit here.
The brewery also offers a pleasant atmosphere for you to enjoy your food and drink at, but be aware, this place is famous in Oregon, and for good reason.
The menu and service are impeccable, but this can lead to some pretty long wait times, especially if you're ordering food! 
If you're just stopping by to check out their incredible selection of craft beers, you probably won't be waiting as long.
One of the reasons Bandon Brewing is so popular is due to its family-friendly atmosphere.
It's not always easy to find family-friendly breweries in the area, but this one definitely has more of a friendly restaurant vibe that you'll want to bring the whole family to enjoy.
Bandon Brewing is the perfect place to unwind, drink and dine at any time of the year, and we can't recommend it enough.
Whether you're visiting solo, with friends or with family, we're sure you'll love your time here. 
19475 SW 118th Ave #1, Tualatin,
OR 97062, United States
Last up, we have the uniquely named Stickmen Brewing Company. Stickmen Brewing Company has four locations: Tualatin Beer Hall (as mentioned), Happy Valley, Lake Oswego, and Cedar Mill.
So, if you love your time at Tualatin, you can recreate it all again at one of their other popular locations! 
Stickmen Brewery is more than just a brewery. At Tualatin, it's also a beer hall, restaurant, and axe-throwing venue.
Yes, you read that correctly! Note: if you're coming for the axe throwing, hours are limited.
Check out the website for more information. Stickmen has an impressive selection of beers and ales, including year-round favorites, seasonal drinks, and even some experimental options.
Some of the most popular drinks on the menu include F-Bomb, a 7.0% ABV American Ipa and Gaijin Dream, a Japanese Style Lager with an ABV of 5.5%.
You'll also find plenty more sour ales, dry Irish stouts, and coffee porters on the menu, too! 
You'll also be spoiled for choice when it comes to the food menu, too.
Stickmen Tualatin has something for everyone, from pizzas and desserts to delicious salads, appetizers, and plenty of gluten-free options, too. 
If you can't get enough of the beers and ales you try on top, you'll also be able to purchase them to-go.
Stickmen has a pretty varied packaged-beer menu, providing everything from sour and coffee oatmeal stout options, to double hazy IPA and Japanese lager.
When we say there's something for everyone, we mean it! 
If you're looking for a truly unique brewery experience, you won't want to miss the opportunity to visit Stickmen in Tualatin.
Final Thoughts
One thing's for sure, you'll never struggle to find a memorable brewery experience in Oregon.
Whether you want to visit a more traditional brewery, or kick back and unwind in a restaurant with your family and friends, you'll find exactly what you're looking for at this varied selection of establishments.
What's your favorite brewery in Oregon?
Let us know below!  
Latest posts by Rees Vaughn
(see all)