If you're looking for a place to enjoy tasty, locally-brewed beers, you can't go wrong with Chicago!
The Windy City is home to over 160 breweries located in the heart and exterior suburbs. These establishments offer brewpubs with delectable food, essential tasting rooms, and gorgeous beer gardens.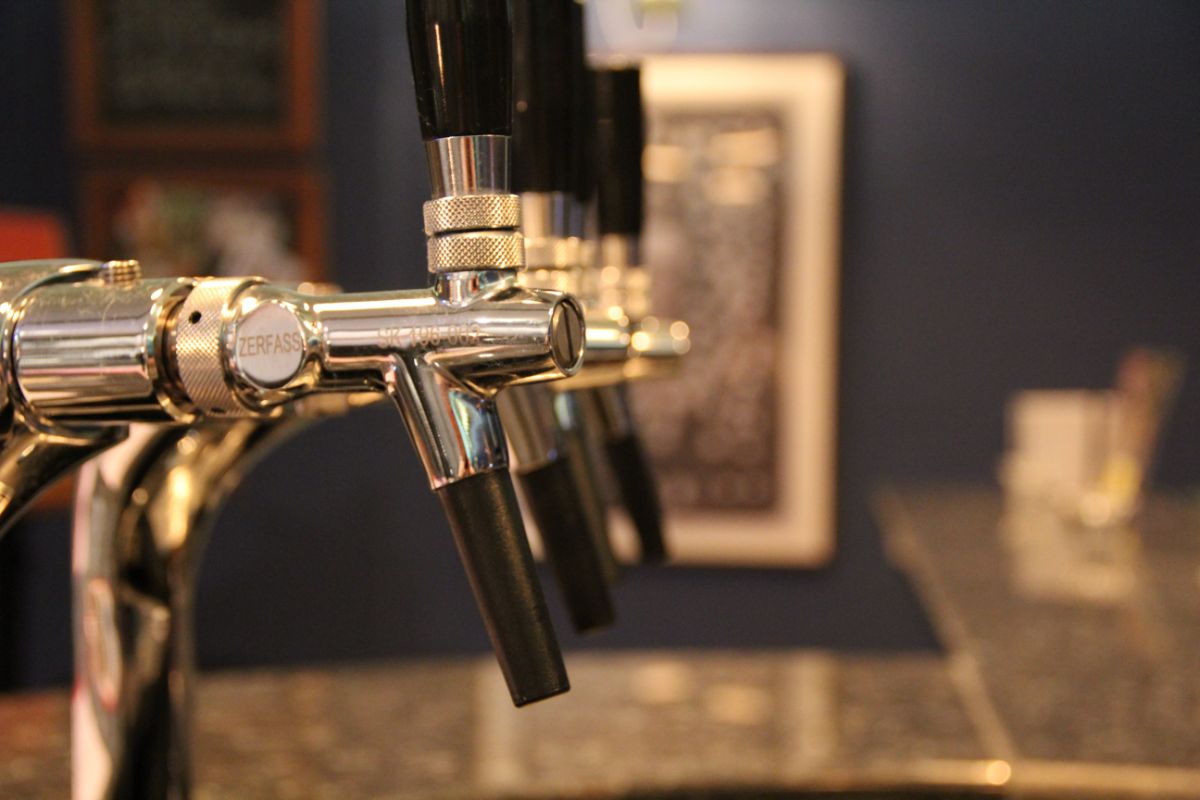 However, as there are so many breweries located in Chicago, it's hard to know where to start your journey. If this is the case, keep reading!
We've listed 13 of Chicago's best breweries below. Whether you love innovative American styles or classic European flavors, these breweries will have something that caters to your taste.
We'll kick off this list with this first-rate IPA establishment. As the name suggests, Hop Butcher for the World adores hops and displays this love through their beer selection. 
The brewery's IPAs always make their way into top lists. You can enjoy traditional options, but the microbrewery has several creative flavors on offer.
Notable choices include Blazed Orange Milkshake, an IPA brewed with oranges and vanilla, and Milktachio, a pistachio milk stout that's brewed with chocolate. 
Hop Butcher for the World's co-founders have recently purchased two other locations in Chicago, so it seems as though they'll be big names in the Chicago beer world in a few years.
You can find Maplewood located in Chicago's Logan Square. A unique feature is that the brewery doesn't just create beer, they make spirits too.
Whether you choose their strong stouts, pale ales, or malty pilsners, Maplewood has a beer to suit all tastes. Even if you're not feeling beer, you can enjoy a drop of single malt whiskey – win-win!
Dovetail is a must-visit for those that like simple beers. Instead of giving their drinks complex and perplexing names, Dovetail takes a no-fuss approach, choosing names that point to the drink's primary ingredient or style.
Examples include: Dovetail Kölsch, Dovetail Lager, and Dovetail Hefeweizen 
If you prefer slightly mature beers, take a look at the brewery's barrel scheme. You'll find a range of intricate, classic European styles. A notable choice is XO4: Wild Vienna, a blend of the brewery's beer and Vienna Lager.
You'll also find XO1: Flanders Rauch, a mix of Belgian sours and Franconian smoked lager. 
You won't find any hop-rich examples here, like IPAs, but Dovetail is sure to satisfy your palette with their European-inspired drinks. It's also dog friendly, so feel free to bring your furry friend along!
Found inside the Kimball Arts Center, this craft brewery offers food and beer with Scandinavian elements. The first craft brewery within Humboldt Park, Orkenoy lives up to its title.
You can opt for interesting, lesser-known options from the beer, like Cole Thumber, a rye ale with fruity fig notes, or Django Pennsylvania, a smoky, low-alcohol Polish beer(see also: 7 Delicious Polish Beers To Try Today).
Orkenoy also offers Nordic specialty food options, like caraway knots drenched in Alpine cheese, or slow-roasted pork laced with Dr-Pepper pickles.
This elegant establishment is found in the heart of the Southport Corridor, located in West Lakeview. Corrido's beers are always changing, offering a range of juicy kettle sours, cloudy IPAs, and spicy saisons.
Brant Dubovick, the Director of Brewing Operations, has formerly led Pittsburgh's Church Brew Works to award-winning success. Ryan Henderson, the Executive Chef, has had significant experience at Alder, Empellon, and Momofuku.
This remarkable lineage has resulted in incredible beer creations, including tropical IPAs, like Mellow Web, and Wizard Fight, a traditional hoppy American drink.
Other than beer, you can indulge in Corridor's carefully selected food menu. Pesto fries, curry chicken salad, and artisan pizza are just some of the food that's on offer.
Brunch fans can also visit Corridor between 11 am and 2 pm on the weekend, as Corridor has a selection of cocktails and breakfast dishes to enjoy.
Forbidden Root set up shop in 2016 and has created lots of innovative brews ever since The brewery is the first one in Chicago that specializes in making beers with botanicals.
You can find blends made with stems, herbs, leaves, flowers, spices, and bark, which all create unique, interesting flavors. 
Forbidden Root's food items go well with their beer. You can find items like spiced almonds, miso butter sprouts, and ricotta gnocchi. You can enjoy these with a pint as you sit in the brewery's front room.
This space has seating fixtures placed in front of Chicago Avenue – great for watching the day go by on a relaxing afternoon! 
Off Color was first created in 2013 by two noteworthy individuals. The first is Dave Bleitner, from Two Brothers Brewing, and the second is John Laffler, from Goose Island Brewery.
The founders' experience is noted in Off Color's elegant and noteworthy beers. These primarily consist of European styles, though visitors can experience the unique taproom within the brewery itself.
We recommend trying Off Color's Very, Very Far beer. This Belgian style Ale won the Great American Beer's first prize, so it's worth giving a go!
Half Acre was originally found in Lincoln Park, but it has since moved to a warehouse outside of Andersonville. The brewery took some time to set up a taproom in the area, but the results were worth waiting for.
Now located in Balmoral, Half Acre's 60,000 square feet area is home to a spacious indoor bar with lots of seating options. You'll also find an attractive garden area that's great for enjoying warmer days outside.
Half Acre also has a food menu with items that will please your tastebuds. You can indulge in bratwurst, mussels, and pretzel bites smothered in delectable beer cheese.
Whether you go for a classic American Pilsner or an innovative barrel-aged Stout, their food pairs naturally with the beer on offer! 
You can find this brewery in Chicago's Sauganash area. Alarmist is known for their groundbreaking beers like Le Jus. This drink won first place in the Great American Beer Festival's Juicy/Hazy IPA class.
Since 2018, Alarmist has become very popular in Chicago over the years. As the brewery is found inside an industrial park, Alarmist's taproom has a friendly, neighborhood feel.
Be sure to give Le Jus a try, along with Crispy Boy, a malty pilsner, or Pantless Pale Ale, a hoppy American-style ale.
Metropolitan's pilsners, German-style lagers, and festbiers are some of the best in the game. The team concentrates on creating choosy, cold-temperature-thriving, and bottom-yeast-feeding beverages.
Metropolitan has a large variety of drinks on offer, including wines and tequilas for anyone less fond of craft beer.
Whether you go for their nitro options or popular Flywheel Pilsner, you can enjoy your beer with food from Kuma's Corner, which can be sent straight to Metropolitan's taproom.
Marz is a noteworthy American brewery that has well-packaged, unique blends on offer. The brewery also has an arcade, making it a great place for friend get-togethers and dates.
Marz's taproom has a wealth of drinks on tap. In most cases, you can choose from twenty-four amusing options, ranging from Marz Beer, a cloudy IPA, or Marz Easy Ale, a refreshing sparkling ale.
The brewery also has a pleasant food menu with flavorful dishes on offer. They also host regular events, ranging from karaoke to best burger competitions. If you're after a fun day out, good food, and tasty beer, you can't go wrong with Marz.
The United States is home to over 9,000 breweries, but starting one up has a host of difficulties. Minority-owned companies in particular face several issues, which Pilot Project aims to amend.
Pilot Project was first created in 2019 by Jordan Radke and Dan Abel. Since its beginnings, the project has helped create 13 different alcohol conceptions.
Thought to be the first-ever space committed to brewing enthusiasts, Pilot Project aims to help people in underrepresented communities enter a primarily white, male, brewing business.
Pilot Project's tasting room has twenty-four taps with several drinks from the project's five brands. You can try Hip-Hops and R&Brew, a noteworthy pale ale, or Il Serpente, an Italian pilsner with lots of floral, hoppy notes.
Pilot Project also has lots of food to try. Whether you go for a Bavarian salted pretzel, vegan spring rolls, or even chicken noodle soup, their dishes pair well with the variety of beers on offer.
Located in the Old Irving Park area, this brewery isn't that well-known outside of Chicago. Despite this, residents have been enjoying the brewery's beverages and food since 2016.
Co-founder and head brewer, Trevor Rose-Hamblin, worked at the Michelin Star Moto restaurant before he created his brewery. He ensured that his beers were made with the same Michelin star standards.
Whether you go for a fruity ale, like Muddle Header, or a strong imperial stout, like Barel-Aged Migration, Old Irvning's Brews will hit the spot, every time.
Final Thoughts
Now you know more about Chicago's breweries!
Whether you're after a fun day out with lots of activities, or a simple drink to relax in the afternoon, you're bound to find a brewery for your needs (see also: 5 Unmissable Savannah Breweries You Need To Check Out)when you're in Chicago.
We hope you visit some of the breweries above when you're next in the city!
Latest posts by Rees Vaughn
(see all)