While Northern Virginia is known for its good wine there are also lots of excellent breweries in this part of the state. The craft beer industry has really taken hold and there are countless examples of great beer being produced here.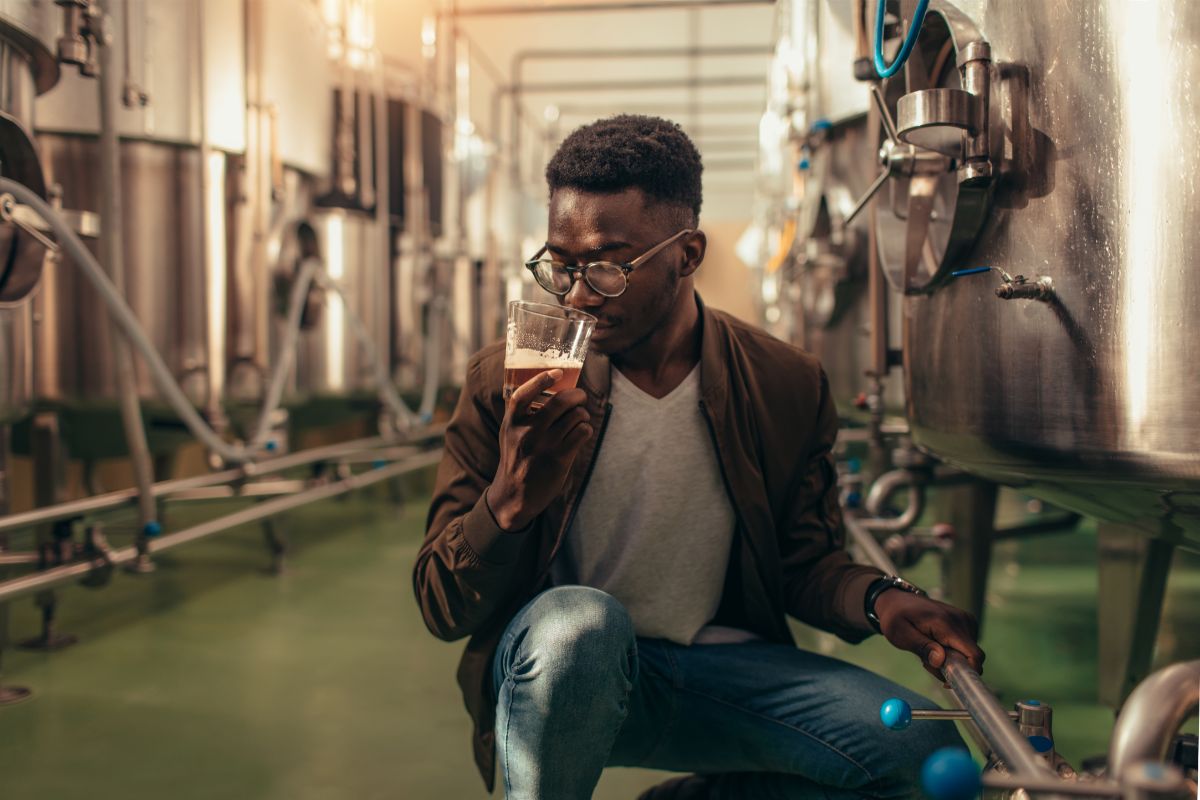 We have found you the 14 best breweries in Northern Va to try today, (see also: 12 Best Breweries In Portsmouth Nh To Try Today)so you get to know just how tasty and flavorful the beers are in this part of Virginia.
When you go to 2 Silos Brewing you're going for the beer, but you stay for the fun. This is a great destination brewery where you can get great beer, tasty food and listen to live music. Spread over 8 acres there's lots to do, see, eat and of course drink.
Choose from tap beers, canned beers and ales, cocktails and hard seltzers to go with some of the great food you'll find here. The beer menus are constantly changing, so there's always something new to taste and experience.
Crooked Run Brewing has two locations with the most popular located in Sterling. This brewery produces some traditional beers but also great contemporary IPAs, (see also: What Does IPA Stand For?)lagers, stouts, sours and barrel-aged beers.
You can also enjoy some great food and entertainment with Señor Ramon Taqueria, and Daybreak Kitchen & Biscuit on site. Events take place most weeks including live music.
The mixed fermentation beers here are brewed under the sub brand of Native Culture and are influenced by Belgian breweries and American sour beer pioneers. You'll also find wine and cider at this brewery.
Vanish Brewing is popular with beer nerds from far and wide, but it's also a great day out for the whole family.
Situated on a 63 acre family-owned farm, this brewery provides between 15-20 of their own beers all of which are made with their own or locally produced ingredients. They even have their own hop farm.
Choose from hoppy, light, malty, sour, fruity or barrel-aged beer on tap or to go. They also have a vintage bottle collection. The brewery also makes cider.
With two locations in Northern Virginia, Aslin Beer Company was founded in 2015 by Andrew Kelley and Kai Leszkowicz. They shared an interest in home brewing and craft beer.
They also married women from the same family, with the surname Aslin, which is where the name for the brewery came from.
Aslin Beer Company have created beers that are innovative and creative ranging from American lager to German style pilsner, (see also: 10 Delicious American Pilsner Beers To Try Today)IPAs to sour ales. They also produce milk stout and hard seltzers. You'll find eateries at their locations for breakfast, lunch and dinner.
You'd be forgiven for being confused when you come to Bear Chase Brewing Company. Is it a brewery, is it a bed and breakfast lodge? Well, it can be both. The award winning craft beer destination has everything you need for a great beer tasting experience.
This is a 35 acre estate which sits on a wooded ridge overlooking Virginia hunt country. The brewery's name came from the original owners whose dogs liked to chase black bears around the farm.
Today you can stay in various lodgings and sample the fantastic beers, hard seltzers and ciders.
Ocelot Brewing Co. is a small craft brewery that is constantly experimenting with new tastes and flavors. They create everything from IPAs to barrel-aged beers, lagers(see also: What Is A Lager?) to mixed fermentation beers. They will often create one off beers, so the menu is constantly changing.
Located close to Dulles International Airport the brewery attracts both local and out of town beer fans. When you find a beer or three that you like you can buy cans, bottles and even kegs of it.
One of the oldest craft breweries in Northern Virginia, Lost Rhino Brewing Co. has won many awards for its beers. They offer IPAs, gose (see also: What Is Gose Beer?)style sour ales, red ale, German style lager and cider among many others. You can also enjoy Irish style stout and non-alcoholic beers.
The brewery takes pride in bringing classic styles and local flavors to the people of Loudoun County and visitors from further afield. Built up from the remains of a relocated former brewer by founder and former brewer worker Matt Hagerman, Lost Rhino continues to grow.
Based in Alexandria, Virginia Port City Brewing Company is an award winning brewery founded by Bill and Karen Butcher. They produce year round beers as well as some seasonal, and specialty beers each having a unique twist.
There is a variety of styles from European beer to American craft beers, pilsners (see also: What Is A Pilsner?)to pale ales, golden ales to robust porters. The brewery has a tasting room with indoor and outdoor seating and is pet friendly for those who want to take their dog along.
Not only does Old Bust Head Brewing have an interesting name, but it is also sited in a fascinating place. It is located in part of a unique farm which is known as Vint Hill. This was a top secret, military listening post for more than 50 years.
They brew a wide variety of ales and lagers, including pilsners, porters, stouts, IPAs and blonde lagers. For seasonal and occasional beers there are sour ales, Mexican lager, kolsch and barleywine. Hard seltzers and hard sodas are also available.
If you ever thought beer and axe throwing were a bad combination then you clearly haven't been to The Farm Brewery at Broad Run. Here they brew all sorts of great beers but also have an axe throwing league! Don't worry each lane is safely fenced off.
Before you pick up an axe check out the variety of beers available. There are blonde, amber, red and black lagers, IPAs of every sort and ciders and wines as well. This is a great family day out and there are always plenty of events going on.
The New District Brewing Company is a collaboration of family and friends which was built from the ground up.
A former electrical engineer, Mike Katrivanos built a brewing system in his backyard. The rest is history. Today the brewery is the first distribution brewery in Arlington since 1916.
New District offers a selection of year round beers including Belgian style saisons, blonde ales, German style kolsch, Irish ale and IPAs. They offer a truly international assortment of styles and flavors.
Seasonal and special release beers are also available on occasion.
The Mustang Sally Brewing Company is a fun destination for beer, socializing and even for yoga. There are trivia nights every Thursday, beer and yoga sessions (we told you) and drafts and crafts where your drinking may improve your artwork.
The beers on offer include pilsners, lagers, wheat ales, pastry sours, hazy IPAs and stouts. This is a fun venue with lots to do including arcade games and weekly survey slams. You can also hold private events at the brewery.
Eddie's Sausage & Fries located inside the brewery provide food.
Caboose Brewing Company are a team of beer scientists and enthusiasts who thrive on trying out new brewing trends and natural ingredients. They have won awards for their red ale, Vienna VA lager, fireside ale, German pilsner, brown ale and Mexican lager.
The beers on offer at Caboose Brewing Company include pale ales, Mexican lager, Czech style pilsner, and sour ales. You will also find porter, stout, maibock and strong bitter. With a skilled chef on staff, Caboose is also a great place to eat out.
If you would like to have your wedding at the brewery you can hire the venue, and they will take care of the preparations for you.
Belly Love Brewing Company is a craft microbrewery which focuses on consistency, and quality. They source their ingredients from around the globe to be able to handcraft every batch of beer.
Most of their beers are made from barley which have been enzymatically treated to break down the gluten for customers with celiac disease or gluten sensitivity.
You'll find lagers, golden ales, IPAs, and stout (see also: What Is Stout?)as part of their year round offerings with seasonal additions of Mexican lager, cream ale, Belgian blonde and brown ales.
To complement your pint you'll also find some great bites at the brewery including gluten free and vegetarian options.
Final Thoughts
Our 14 best breweries in Northern Virginia are just the tip of the iceberg, in Loudoun County alone there are more than 35 breweries. We just wanted to give you a small taste of what is on offer in this part of the US.
We hope that our guide has been helpful and has inspired you to go in search of some great craft beer in Northern Va today.
Latest posts by Rees Vaughn
(see all)