While Portsmouth, Nh may not be the first place that comes to mind when considering brewery visits you would be mistaken for underestimating this city when it comes to craft beer.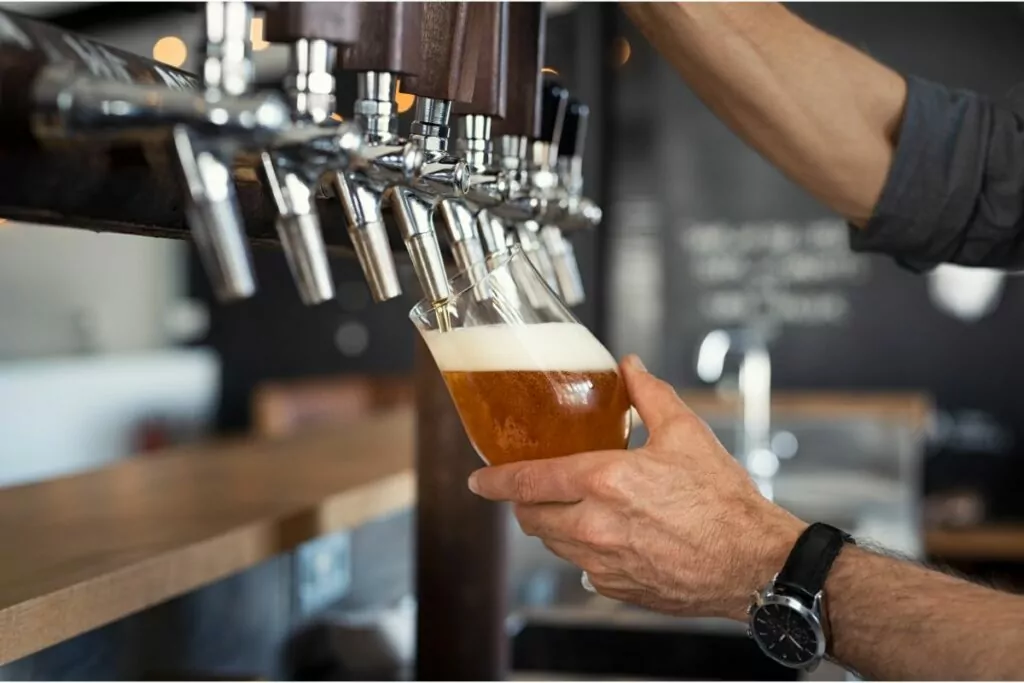 There are gems of craft breweries, some well known, others not so much but all with something unique and tasty to offer.
We have rounded up the 12 best breweries in Portsmouth Nh to try today, (see also: 7 Best Breweries In Massachusetts To Try Today)so you don't miss out on anything during your trip here.
Great Rhythm Brewing Company is a small, independent craft brewery on Bartlett St in Portsmouth. Founded in 2012 by Kirsten and Scott Thornton their intention is to offer high quality craft beers for every occasion.
They have two signature beers, both of which are hazy New England IPAs, Squeeze and Tropical Haze. Other strong favorites are their classic lagers, stouts, fruited sour ales and much more.
The beers at Great Rhythm Brewing Company are inspired, unsurprisingly, by music. So they have an IPA series called Soundcheck which is hop forward and a double IPA called Satellite Radio.
Their sour series is extensive and is available all year round. 
Earth Eagle Brewings is just a short walk from Market Square in Portsmouth and offers a spacious beer garden in the warmer months. You can even bring your dog along provided they are on a lease.
With a rotating tap selection there are plenty of great beers to choose from including their New England Gangsta IPA which is tropically flavored.
If that is not your taste then why not try some of their stouts, choose from a coconut white stout called Brethren Code or an oatmeal stout with the cool name, Crows of Oden.
The brewery also offers dark lagers, Nordic ale, German style gose and American lager. 
Hard teas, seltzers and cider are also available.
Loaded Question may be one of the smaller breweries in Portsmouth, New Hampshire, but it is also one of the most popular.
They have a great selection of craft beers on tap that is constantly rotating so that there is always something new on offer. 
You will find beers changing as the seasons change and which perfectly match the moment. Their on tap menu is updated daily and lets you know what is on offer each day.
Also available is an impressively comprehensive list of past and returning beers. 
You'll find IPAs, fruited sours, saisons, porters, lagers and traditional brown ale. There are also gluten free options of hard cider, hard kombucha and rosé wine.
The Deciduous Brewing Company is located in Newmarket, just 13 miles from Portsmouth. It makes our list because it has a great selection of beers and would be a shame to miss out on.
This is a boutique brewery which produces some of the best sours and barrel-aged ales that you'll find in the area.
You can enjoy their extensive selection in comfort too, with a taproom furnished with booths, couches and a fireplace for the colder months. 
The beers on offer include American lager, kolsch style ales, unfiltered pilsner, sour ales, IPAs, porters and stouts. Deciduous Brewing Company is worth the short drive from Portsmouth to Newmarket.
Cisco Brewers are one of the longest established craft beer brewers in Portsmouth. They have been around since 1995 and have several other breweries across New England.
If you are looking for a great brewery that also serves food then this is the place for you. 
It is a large venue with plenty of space both inside and outside where they frequently host festivals and live music. Their beer is brewed onsite in Portsmouth and their spirits are distilled on Nantucket Island.
From their beer menu you can choose from pale ales, light lagers, IPAs, wheat ale, hazy IPA and double IPAs. Their beers all have a nautical theme from Whale's Tail Pale Ale to Shark Tracker Light Lager.
Although Tributary Brewing Company is based in Kittery, Maine it is a mere 2 miles away, and gets included on merit.
Founded by husband and wife team, Tod and Galen Mott this brewery has a sharp focus on sustainability and the importance of water in brewing. 
For this reason, Tributary Brewing only creates small batches. Not only is this environmentally sound, but it also allows this master brewer to concentrate on the flavor of the product.
For example their stout, Mott the Lesser has an intricate balance between sweet and bitter. 
Other offerings include porters, American milds, pale ales, California Common, brown ale, rauchbier, and olde ale, a traditional British beer style.
The Portsmouth Brewery on Market Street is more than 30 years old and bears the title of New Hampshire's first brewpub and craft brewery.
Today it is a destination for fantastic beer, great food and a wonderful downtown hang out spot. 
The beer is still brewed in a seven barrel brewing set up which by today's standards is quite small.
However, as Portsmouth Brewery is a sister brand to Smuttynose Brewing Company who have a larger reach, the size of their operation is offset. 
On offer at Portsmouth Brewery are traditional lagers and ales, many of which are turned into what they call hybrids.
This involves adding ingredients such as blackberry and lime puree to a pilsner or mixing different hops to create a unique taste. 
Visit this nanobrewery on Islington in Portsmouth for a carefully cultivated selection of beers. Founded in 2016 by Dagan Migirditch and Dane Nielsen, Liars Bench Beer Company is based in an old plumbing warehouse.
It offers multiple beer options on tap as well as a large food menu with which to enjoy your chosen beverage.
This small operation has rooted many of its creations in more traditional beers such as cream ales and extra special bitters or ESBs.  
However, they do also offer modern beer styles too including IPAs, pilsners, lagers, saisons, stouts and schwarzbier.
Another nanobrewery is the Garrison City Beerworks in nearby Dover just 12 miles away. This brewery specializes in English style hazy beers, IPAs, stouts, lagers, stouts and saisons.
Although on occasion you will find interesting and innovative craft beer options. 
The taproom is open 6 days a week, and they have both indoor and outdoor seating for customers. You can choose half or full pours of their 13 drafts as well as hard kombucha, hard cider and a small wine selection.
To help that alcohol go down, enjoy some of their creative street tacos.
For one of the best breweries on the Seacoast, a quick 10 minute drive to nearby Newington gives you the opportunity to visit Stoneface Brewing Co.
This brewery offers a regular rotating selection of handcrafted beers. These include imperial milk stout, dark ale, IPAs, wheat ale, and sour ales.
There are twelve rotating taps and also some brewery exclusive releases on occasion. 
The beers that are brewed and packaged here are available to buy on site or via distributors throughout New England and beyond.
You can also catch some events at Stoneface Brewing Co. including live music and art making nights.
The Definitive Brewing Company was founded in 2017 by a group of family and friends who wanted to make amazing beer.
They choose the name as a reminder that no matter how good the product, it can always be improved on. 
With a location in Kittery, just 2 miles from Portsmouth and in the heart of a food and beverage scene the brewery has found the ideal spot.
Customers from Maine, New Hampshire and Massachusetts can all access this great brewery. 
They offer sour ales, American lager, session ale, red ale, IPAs including double and triple IPAs and milkshake DIPAs. Definitely worth a visit for their extensive range.
The Thirsty Moose has everything you need to suit your current mood. They offer 116 tap lines along with some great American bar and grill food made from scratch.
Founded by a group of friends, the Thirsty Moose is a wonderful place to gather and socialize while enjoying their selection of beers. You'll find wheat beer, red and brown ales, barleywine, cider, fruit beer, cream ales, Belgian tripel, lagers and many IPAs and pilsners.
Stouts and porters are also available, and they have non-alcoholic gluten free beers too.
Final Thoughts
Whether you are visiting Portsmouth specifically to check out the best breweries (see also: 5 Unmissable Santa Barbara Breweries You Need To Check Out)or you are just vacationing, there are some great places for you to visit to get your buzz on.
From nanobreweries to multi-site operations there's something for everyone in this city and surrounding area.
We hope you have enjoyed our guide to the 12 best breweries in Portsmouth, Nh and that you have found some great places to visit.
Latest posts by Rees Vaughn
(see all)