Many beer drinkers should be thankful to the city of Baltimore for it was here in 1829 that the bottle cap was invented.
The first beer was also canned in the city and while many of the old breweries have closed down, newer breweries have come in to spark something of a beer scene.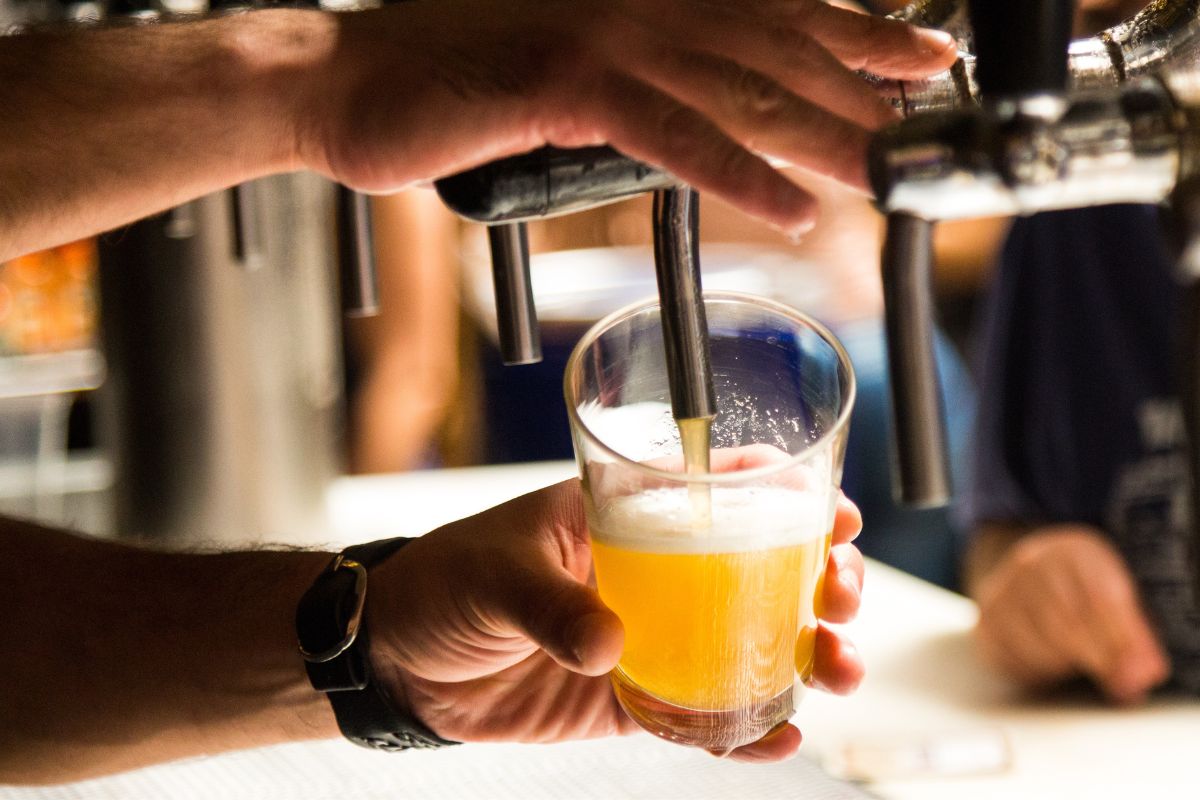 That means plenty of new beers to try and venues to check out along the way to get a good idea of what it means to brew beer in the city. Some of these are right in Baltimore itself whereas you may need to venture out a bit further for a few more.
In this guide, we will detail ten of the best Baltimore breweries to try today(see also: 8 Best Boulder Breweries To Try Today).
Diamondback Brewing Co.
Union Craft Brewing
Mobtown Brewing Company
B.C. Brewery
DuClaw Brewing
Flying Dog Brewery
Heavy Seas Beer
Checkerspot Brewing
Waverly Brewing Company
Guinness Open Gate Brewery
Address: 1215 East Fort Avenue #8 City, Baltimore, MD 21230
Diamondback Brewing Co. started when a trio of friends decided to come together and create their own beers in 2014.
From there, one of the most renowned breweries in Baltimore began and their home was in a former seafood location though now it has live music and a pizza oven.
This is a great venue for an evening out with friends and family with plenty of beers that will impress.
From an Imperial IPA (Greener Machine, which has a baby version House IPA called Green Machine) to a Dry Hopped Kellerbier (Cold Taxi) and an Oat Pale Ale called Omar.
Address: 1700 West 41st Street #420, Baltimore, MD 21211
The brewery where Union Craft Brewing have their home used to be a warehouse for industrial purposes so you can expect plenty of seating. Even with all that room, the brewery remains crowded due to its popularity.
Strangely, this might be a brewery where the food is the main draw as they have some delicious pizzas.
Though if you do go for the beer, you should find a Golden Ale, a Hoppy IPA, a Pilsner, and a Lager though you can always take a tour to see how it all gets made.
Address: 4015 Foster Avenue #400, Baltimore, MD 21224
You will find Mobtown Brewing Company, appropriately, in Brewers Hill.
This is the neighborhood where National and Gunther Brewing Companies once operated and its legacy lives on with a brewery that is keen on using regional ingredients in their batches.
Currently, that includes Pilsners, a Sour Gose, (see also: What Is Gose Beer?)an American Porter, various Lagers, IPAs (including a Cold IPA), even the odd Farmhouse Ale. All in a neighborhood brewery that looks to bring back some tradition to the community, created by local residents itself.
Address: 10950 Gilroy Road Suite F City, Hunt Valley, MD 21031
At the far reaches of the Hunt Valley, you can find B.C. Brewery and it is well worth the trek. That may be for its home brew, the huge community tables, or the games on offer which draw in the crowds.
For those first-time visitors, try something light such as their Hunt Valley Blonde then work your way up.
You can even pour your own beer from their self-serve taps though there are gluten-free options, spirit-based canned cocktails, and an onsite kitchen.
Address: 8901 Yellow Brick Road Suite B, Baltimore, MD 21237
DuClaw has been going for two decades and was one of the forebearers of Baltimore's beer scene. The brewery has moved twice yet their current address, just outside of the city, is a venue in itself.
This is the place to try some innovative beverages including their Sweet Baby Jesus, a chocolate and peanut butter porter which is worth the journey on its own.
Their beers can currently be found in 21 US states, Canada and France yet head to their taproom to sample their latest creations.
Address: 4607 Wedgewood Boulevard, Frederick, MD 21703
The origins of Flying Dog Brewery dates back three decades, to a hotel room in Pakistan and you may well know their beers thanks to their striking labels.
If there is one beer to try from Flying Dog Brewery (see also: 10 Best Catskills Breweries To Try Today)then it is their seasonal Summer Ale, Dead Rise Old Bay, which is available between spring and summer.
Yes, it may sound a little dark yet with Old Bay seasoning from the area and lemon, (see also: What Is A Shandy?)it is an unforgettable flavor.
During the year, you can rely on their Pale Ales, Juicy IPAs, Hazy DIPAs, Imperial IPAs, Imperial Porters, and even a high-octane sour.
Address: 4615 Hollins Ferry Road, Halethorpe, MD 21227
The current title for the largest craft brewery in Baltimore will go to Heavy Seas and the pirate theme is there in abundance.
Heavy Seas is also one of the oldest operating breweries in the city, having been established by Hugh Sisson in 1995, then as Clipper City Brewing Company.
Eight years later came the Heavy Seas line featuring a range of bold, highly alcoholic beers that came with some formidable flavors.
Right now, that includes their award winning Loose Cannon IPA, as well as Hazy IPAs, Citrus IPAs, DIPAs, and sensible Lagers.
Address: 1399 S Sharp Street City, Baltimore, MD 21230
When you try a beer from Checkerspot Brewing, you should be marveling at the taste which is scientific in its approach.
Named after the Maryland state butterfly, the brewery was opened in 2018 as a permanent fixture that has built up a popular following in the city with two storeys and natural accents.
Head to their tasting room to try the likes of their flagship offering, Juniperus IPA. There is plenty to try for those who love hops, malt, or prefer their beer on the lighter side.
Address: 1625 Union Avenue Suite C, Baltimore, MD 21211
The vibe at Waverly Brewing Company is so relaxed, you may see someone casually slicing a prosciutto leg.
If that is not quite your vibe then head outdoors to enjoy the sunshine and pick from their extensive range of beers that has something for everyone.
You only have to pick up your beers from their taproom, also known as 'The Shed' though you can catch a glimpse of the Mighty Jones Falls while you are at it.
This is a cozy space where you can enjoy between six and eight on-side brewed beers including Pale Ales, IPAs, Sours, a Pilsner, Ciders, a Stout, and a Porter.
Address: 5001 Washington Boulevard, Halethorpe, MD 21227
For some true heritage, albeit all the way from Ireland, visit the Guinness Open Gate Brewery. This is one brewery where you can choose between a self-guided or guided tour of their experimental brewery.
Take the time to enjoy their restaurant or food truck if you get peckish though the taproom and beer garden are well worth visiting.
Of course, you can try their Guinness in draught form or as a bottle, their Guinness IPA, American Amber Ale, American IPA Guinness, Belgian Style Wit, Milk Stout, and Baltimore Blonde.
Final Thoughts
There is plenty to enjoy from Baltimore's rich and diverse beer scene with plenty of breweries offering exciting flavors.
Even the relatively well-known Open Gate Brewery from Guinness should still have a range of beers, aside from stouts, that are well worth trying.
Indeed, you may decide on which breweries to visit based on their range of beers as well as their food offerings and the size of their taproom.
Should you take your beer drinking more seriously than most then try the taprooms with the bolder flavors.
That could include the Juniperus IPA from Checkerspot Brewing, the Loose Cannon IPA from Heavy Seas Beer, or Dead Rise Old Bay Summer Ale from Flying Dog Brewery.
There is even a Cold IPA that is well worth trying from Mobtown Brewing Company. Whichever brewery you choose, try to spend a good amount of time sampling the beer list and maybe grab some food while you are at it.
Frequently Asked Questions
What Is Known As The Largest Brewery In Maryland?
There is a wide variety of breweries in Baltimore and across the state of Maryland. The largest brewery in Maryland can be found in Frederick, just a short drive from Baltimore.

Flying Dog Brewery produces over 100,000 beer barrels every year.
Which Beer Is Considered To Be The Most Famous To Come From Baltimore?
National Bohemian Beer is considered to be the most famous to come from the city of Baltimore. It was first produced in 1885 as an American lager by the National Brewing Company.

Nowadays, the beer is colloquially known as 'Natty Boh' which is what you might have to call it when you order one in a bar.
Latest posts by Rees Vaughn
(see all)