American Pilsners really are some of the nicest beers out there. There is a very distinct taste to Pilsners that you don't get from any other beers, and that is why so many people reach for this drink as their first choice.
If you are a big fan of American Pilsner beers, then you are in the right place. There are tons of different manufacturers across the USA that produce American Pilsners, but in this guide, we are looking at the absolute best.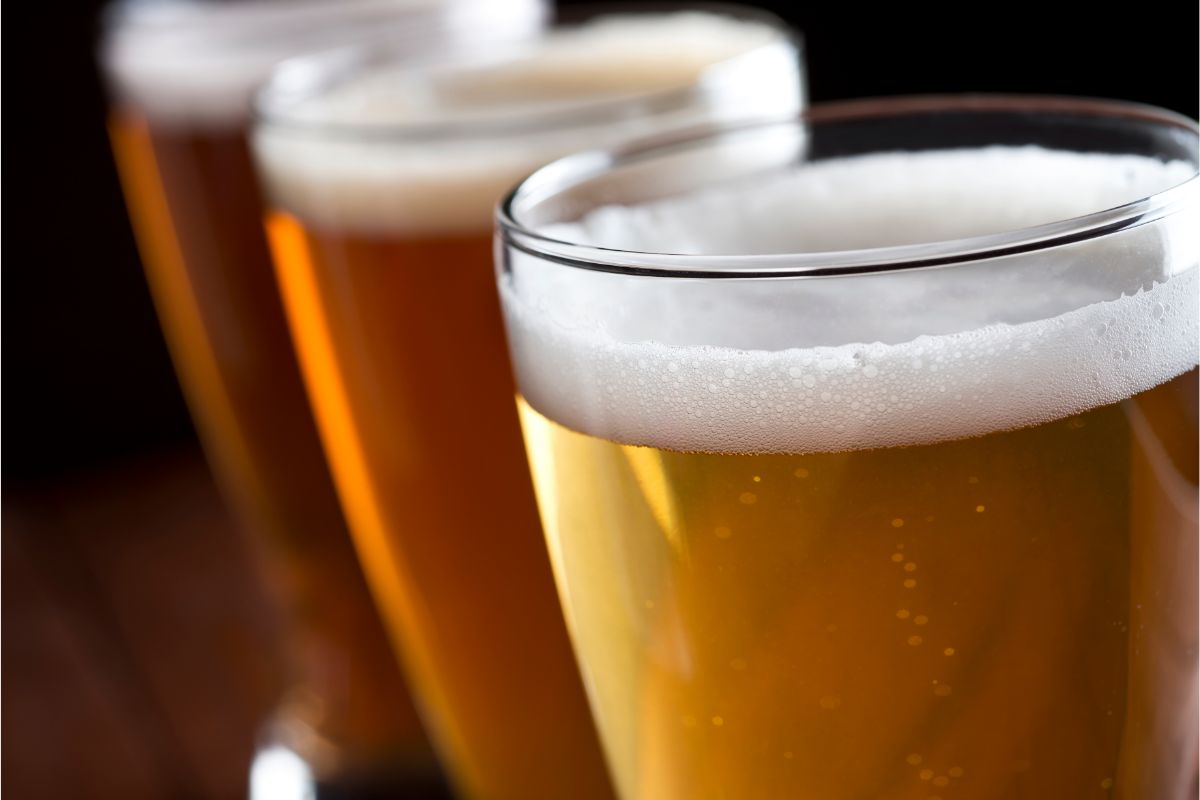 With tons of different brands producing American Pilsners, you might find yourself a little spoiled for choice. But don't worry, we've got you covered! In this guide, we're taking a look at 10 delicious American Pilsner beers that you should try today(see also: 14 Best Cape Cod Breweries To Try Today).
So what are you waiting for? Read on to find out more!
If you want a classic American Pilsner, then the one that we would recommend is Miller Lite. Miller Lite is a brilliant American Pilsner, and one of the most popular in the USA.
As the name suggests, it is a light beer with an ABV of 4.2%. It is a delicious drink that has a very distinct and crisp profile unlike any of the other Pilsners in this list.
It is low in alcohol, low in bitterness, and perfect for anybody who isn't a big fan of alcohol, but loves the flavor of Pilsner.
With a history stretching back nearly 50 years, this drink is a firm favorite, and definitely one for you to try!
Another super popular American Pilsner in the US that you should really consider trying is Budweiser. Budweiser is popular the world over, and after one taste you will really understand why.
There is something truly special about the flavor of Budweiser. This American Pilsner has been around since the 1800s, and it has an ABV of around 5% making it slightly higher in alcohol than Miller Lite.
Budweiser is one of the bestselling alcohol brands in the USA, which really isn't a surprise.
This beer is available in a regular version and a light version. So no matter your preference, there is a Budweiser for you.
If you fancy trying an American Pilsner that is a little different, then you should check out Avery Joe's Premium. This beer is filled with flavor, and expertly designed to tickle the taste buds of any American Pilsner fans out there.
This is a classic yet contemporary beer that perfectly straddles the two categories of Pilsner. It is hoppy and fruity, and deliciously bitter. But the best thing about this American Pilsner is the unique fruity flavor that it carries.
It is truly unlike any of the other American Pilsners on this list.
If you like your American Pilsners to have hints of the classic European style of Pilsner, then this is the perfect beer for you!
Another outstanding all-American Pilsner is Urban Chestnut Forest Park Pilsner. This pre-hibition beer has a 5.2% ABV and a super interesting flavor. It's substantial alcohol content and delicious flavor is what makes it so great!
Inspired by the beers that were produced during the famous prohibition era, this drink intends to keep the beloved Forest Park in St. Louis alive.
And it is doing exactly that. This is easily one of the best Pilsners currently produced in the USA and one that lots of people choose to drink.
If you are searching for a Pilsner that is a little more niche, then this is the beer we would recommend. You should definitely give it a taste!
Alternatively, if you are interested in tasting an American Pilsner that is a little different, you should check out 3 Lobos American Pilsner. This Pilsner has an ABV of 4.7%, and a light, hoppy flavor.
There really isn't anything not to like about this beer. It is filled with character from the bottle itself through to the lid of the bottle. But the character doesn't stop there.
Not only is the packaging super interesting, but so is the beer itself. With a mixture of flavor combinations that you won't find in another Pilsner, there is lots to like about this drink.
So, if you want to give something a little different a try, you should definitely consider this drink!
If you are searching for an American Pilsner that is a good old reliable drink, then you should consider Short's Old Reliable. This beer has an ABV of 4.9%, and it is perfect for anyone who likes a light Pilsner.
Just like its color, this beer is light in flavor, with that unique taste that you only get from a Pilsner.
The most notable thing about this beer is the yeast aromatics that affect the scent of the beer, and the floral fragrances that you will catch a hint of in every sip you take.
There really is so much to love about this beer, and once you taste it, you'll understand why we love it so much. So be sure to give it a whirl!
Another outstanding Pilsner for you to taste today is Jack Russell All American Pilsner. As the name suggests, this is an all-American beer that is filled with flavor and utterly delicious.
This fascinating beer with a 5.5% ABV is perfect for anybody who just wants a Pilsner that isn't too fancy. This beer does exactly what it says on the tin, and that is exactly what makes it so brilliant.
With malty undertones, this is perfect for any fans of American Pilsner beers.
So if you don't know which beer to try today, (see also: 8 Best Boston Breweries To Try Today)this one is a very safe bet! 
Another premium beer to check out if American Pilsners are your tipple of choice is Wiseacre Tiny Bomb American Pilsner. This beer is a great one to choose if you don't know which to taste next, so be sure to check it out.
With an ABV of 4.5%, this beer has everything you could possibly need in a beer. From cute and fun can designs in its packaging, to a classic German malt in its undertones, this beer has everything you want in an American Pilsner.
It really is outstanding, and one that you should taste in your lifetime.
So if you really are stuck on what to choose, this is the beer we would recommend picking up!
If you really don't know which American Pilsner to pick up, we would recommend going for the Persephone Amarillo Pilsner. This Pilsner is a total classic, and really easy to get your hands on!
With an ABV of 5%, this Pilsner is a little stronger than some of the others. But that is actually something that we love. The slightly higher alcohol content really transforms the flavor of this beer and makes it really special.
This beer is bright and refreshing and perfect for a hot day. So, if you haven't tried it before, you definitely should!
Finally, if you love a rye Pilsner, then Port City Ways and Means is pretty much made for you. This beer is rich in color and rich in flavor too, and that is why we love it!
This golden Pilsner is slightly hazy, and that is what makes it so special.
There aren't many hazy Pilsners out there, and this really is one of the best. With an ABV of 4.7%, this beer perfectly balances good flavor with alcohol content, and that is what's so good about it.
So, if you haven't given this beer a taste, we would recommend trying it today(see also: The 8 Best California Breweries To Try Today)(see also: 10 Best Austin Breweries To Try Today)(see also: 10 Best Columbia SC Breweries To Try Today)!
Summary
In short, there are lots of amazing American Pilsner beers out there to try. From popular American Pilsners including Miller Lite and Budweiser, through to more niche Pilsners such as Short's Old Reliable and Persephone Amarillo Pilsner.
No matter your flavor preference, there are lots of different Pilsners out there for you to try. So, if you're struggling to make a decision, you should check out one of the Pilsners on this list.
We hope you have found this information helpful. Thank you for reading!
Frequently Asked Questions
What Is An American Style Pilsner?
An American-style Pilsner is a beer that has a very unique flavor to it. American Pilsners are crisp, lightly hopped, and full of flavor.

American Pilsners tend to have notes of citrus and nectar fruits, and will often be malty and bitter. As we have said, this beer has a very unique flavor to it, and it is this that makes it so popular. 
What Is The Difference Between American And European Pilsners?
If you are a big fan of Pilsners, then you have likely tried Pilsner beers from across the world. There are lots of different styles of Pilsners out there, but some of the most popular are American and European Pilsners.

The key difference between these Pilsners is that American beers tend to have a less overpowering flavor, and are a lot less overpowering than traditional European Pilsners. 

Latest posts by Rees Vaughn
(see all)