To find a thriving craft beer scene should not immediately mean heading to the West Coast or to Austin, Texas. You can steer clear of the Pacific Northwest and find one in the heart of North Carolina in the city of Asheville.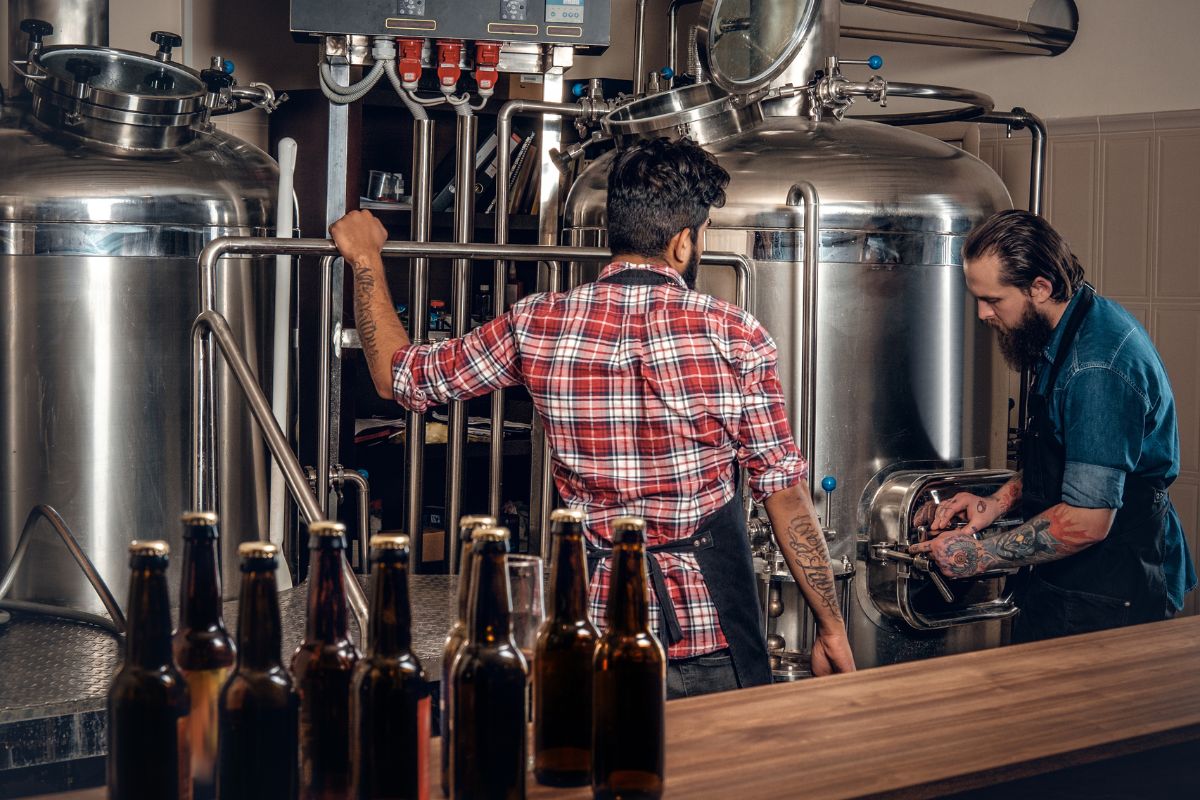 There are some great beers to try that are closer to the East Coast, each with its own carefully created taste, look, and mouthfeel in a state that has been brewing since the 18th century.
Granted, Asheville may be young in terms of other US craft beer scenes yet it is catching up fast so be prepared to take a trip and stimulate your taste buds.
In this guide, we will detail the ten best Asheville breweries to try today(see also: 7 Best Breweries In Massachusetts To Try Today). This will include some of Asheville's oldest breweries as well as new and adventurous ones too.
1. Highland Brewing Company
2. Asheville Brewing Company
3. Green Man Brewery
4. Archetype Brewing
5. Hi-Wire Brewing
6. Wicked Weed Brewing
7. New Belgium Brewing Company
8. Catawba Brewery
9. French Broad River Brewery
10. DSSOLVR
Address: 12 Old Charlotte Highway, Suite 200, Asheville, NC 28803
If there is a brewery that the Asheville craft beer scene revolves around then it would be Highland Brewing Company.
It has the title of the biggest independent brewery in the state and remains a family affair having been started by Oscar Wong and has been run by his daughter, Leah Wong Ashburn, since 2015.
For a beer-themed day out, head to their first taproom which stands on a gorgeous hilltop with trails, disc golf, and sand volleyball courts. Take a tour of the brewery or simply relax with an IPA, pilsner, fruited ale, or house lager.
Address: 675 Merrimon Avenue, Asheville, NC 28804
At Asheville Brewing Company, they know that pizza and beer are one of the greatest combinations on the planet. You can even enjoy a movie at their Merrimon Avenue location including some relatively new releases, what more could you ask for?
Their pizza pies have won awards yet their spinach burger is a great option for vegetarians. Yet the beer is the main draw and there's plenty to choose from including seltzers, rye bocks, brown ales, pale ales, and hefeweizens.
Address: 27 Buxton Avenue, Asheville, NC 28801
Green Man is another long-standing Asheville brewery having opened in 1997 and has since become a major player in the city's craft beer scene. With European stylings, you can expect plenty of traditionally made beers across their locations.
There's the original Dirty Jack's dive bar for a quiet drink or their more involving Green Mansion a few doors down where you can pick up some merch while you sample their beers and glance at the Blue Ridge Mountains.
Imagine, you could be sipping an amber ale, 2021 Great American Beer Festival gold-winning porter, or their archetypal IPA while gazing out at nature.
Address: 265 Haywood Road, Asheville, NC 28806
In a young craft beer scene, Archetype Brewing is one of the breweries that is quickly making a name for itself. They may be more well known for their exquisite can label designs yet the beer is well worth sampling.
From hoppy beers, farmhouse ales, to wild ales, each one offers a consistently impressive taste.
Though the labels do contain endearing haikus, step into their taprooms for goses, mixed culture grisettes, hazy IPAs, and barrel-aged saisons, or even a spicy farmhouse ale like their Carolina Reaper.
Address: 197 Hilliard Avenue, Asheville, NC 28801
If sours are more your jam, then head to the Hi-Wire where they are known for tart kettle tastes such as their Margarita Sour as well as decidedly far-reaching wild ales and winter IPAs.
You can also rest your palette with an easy-drinking lager like Leisure Time yet Hi-Wire provides an alternative to a lot of the city's beer scene.
After opening in 2013, the brewery has become one of the more established in Asheville and a crucial part of the community. Take your pick from their taprooms and the Biltmore Village one is great for a get-together with games, food trucks, and regular events.
Address: 147 Coxe Avenue, Asheville, NC 28801
For a truly unforgettable beer experience, you need to go to Wicked Weed's Funkatorium location in the city's South Slope Brewery District(see also: 8 Unmissable Traverse City Breweries You Need To Check Out). This is where you will find the brewery's more adventurous brews.
That would include their Milk & Cookies imperial stout and Dank DIPA though there are several more that are worth sampling.
You can also try their wine and get into their cocktail menu yet this is an elevated brewpub which offers new-agrarian cuisine that you must try.
Address: 21 Craven Street, Asheville, NC 28806
New Belgium Brewing Company are not afraid to showcase their work and offer a range of brewery tours. From their free Tour Teaser to a deeper dive with their Behind The Scenes group tour with a Liquid Center Representative.
If you simply want to try their beer then that's fine too as they have plenty to try. You may find their Voodoo Ranger IPA in stores yet there is also an imperial IPA, a classic ale, and several variations on an IPA including an imperial IPA and a blood orange IPA.
Address: 32 Banks Avenue, Asheville, NC 28801
Ok, we will level with you. Catawba Brewery actually has its origin in Morganton yet it has become a fixture in the Asheville craft beer scene with two locations; Biltmore Village and South Slope.
You can expect plenty of fun activities at either location like live music, bar trivia nights, and even axe throwing. Come for the fun but stay for the beer like their Strawberry Zombie white ale, Honey Combed honey nut breakfast stout, or Endless Trail pilsner.
Address: 101 Fairview Road, Asheville, NC 28803
To be one of the oldest breweries in Asheville is not exactly saying much as the scene is still comparatively new yet French Broad River Brewery has been impressing with their beers since 2001.
This is a local brewery that is dedicated to the area with local collaborations such as their Poor Boaters Rations which was made with French Broad Adventures.
Then again, there is a wide range of year-round beers to choose from including pilsners, IPAs, stouts, porters, and kölschs.
As you may expect, they are keen to showcase local talent and that includes Bluegrass Jam sessions on Wednesdays as well as Reggae Sundays.
Address: 63 North Lexington Avenue, Asheville, NC 28801
Another young pup to the Asheville craft beer scene is DSSOLVR and you can expect some exceptional beers. This is a brewery that takes its offerings very seriously, even if their artwork looks truly out-there.
While they have their eye on what's next, they use traditional methods and that's down to co-founders Mike Semenec and Vince Tursi (who learned the trade in Boston with breweries including Lord Hobo and Night Shift no less).
If you really want to go to Flavor City then try their imperial stout (Escape The Dark) and their aged wheat wine (Pain Into Power).
Final Thoughts
It may seem strange to head out to Asheville in search of an exciting craft beer scene yet that is what you can find.
It is not just the beer-making that is impressive but the range of beers including some wild sours and farmhouse ales alongside some extravagant IPAs and porters.
These breweries also take their locations seriously as they use locally sourced water and can showcase views of the local area.
You can even learn about how some of the breweries make their beers with regular brewery tours, some of which will require that you book early.
Expect some tasty food too as food trucks and in-house kitchens are turning breweries into venues where you can remain for most of the day and into the night.
That could mean pizza and a movie, live music, or trivia nights so grab a table. There are few better places in America to visit if you want to try a wonderful range of beers than Asheville, North Carolina.
Frequently Asked Questions
What Is The Signature Drink In The State Of North Carolina?
While Asheville is known for an upcoming craft beer scene, North Carolina has a cocktail as its signature drink.

That would be the Cherry Bounce which combines cherry vodka, lime juice, and cranberry juice for a tart yet satisfying drink. It's also a bright red and is served with plenty of ice. 
Why Is Asheville So Sood At Producing Beers?
Aside from the expertise of the city's breweries, Asheville is well-positioned for creating delicious beer. That's down to the fresh water which flows down from the mountains in the Pisgah National Forest.

Not only is the water fresh, but it is also ideal for brewing beer and is locally sourced.
Latest posts by Rees Vaughn
(see all)