Ahhh, Mexico. What's not to love about Mexico?
This country has blessed us with its incredible food, lively culture, and beautiful hot peppers. It's also known for producing some pretty food beer, too.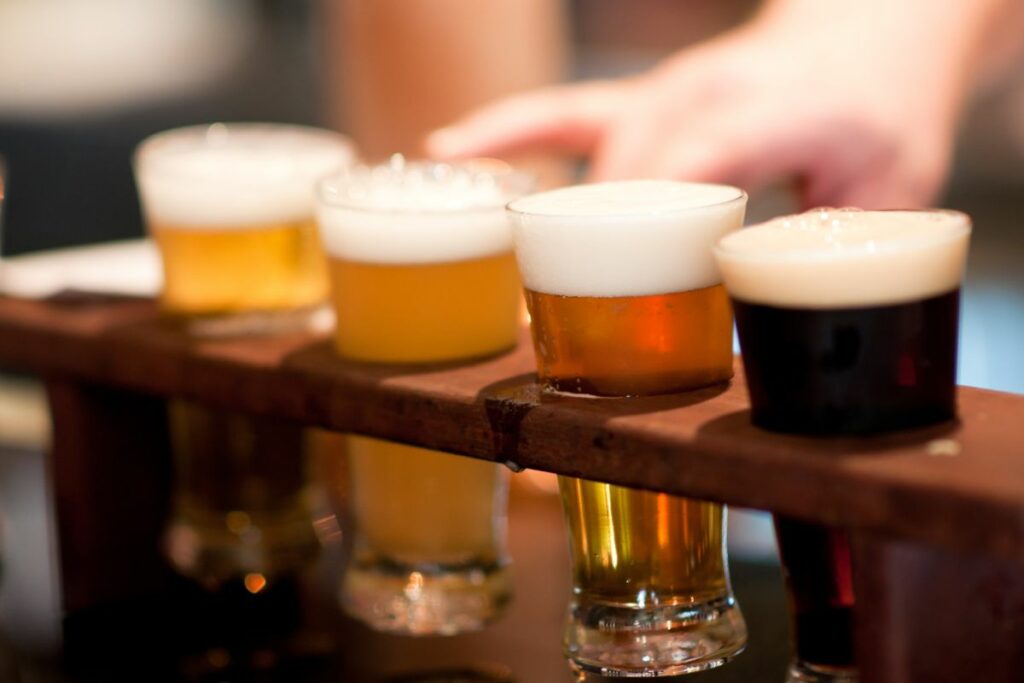 Mexican beers are distinctive and often lager-like, and most are meant to be consumed cold. If you need a thirst-quenching beer to enjoy in the sunshine, there's nothing quite like a Mexican beer to hit the spot.
If you've enjoyed some of the more common, mass-produced varieties like Corona, why not branch out and see what other beer varieties have to offer?
Here are five of our favorite Mexican beers that you can try today(see also: 3 Best Chicago Breweries To Try Today). From light and fruity to rich and complex, there's a little something for everyone. 
1.Pacifico Clara
First up, we have a pretty popular golden beer – Pacifico Clara. Pacifico Clara is a Mexican lager beer, coming in at 4.5% ABV.
This refreshing beer is truly summer in a drink, and it's best enjoyed with a generous wedge of lime and some good food. 
Pacifico Clara is well-carbonated, and you'll notice it has a slightly more complex flavor than other beers.
The dominant flavors in this beer are a bitter grassy flavor, with a slightly crisper finish that will hit you on the way down.
This beer is brewed with the finest special malts and hops, and two-and-six-row barley, and it was first brewed in 1900. The brewery can be found in Mazatlan, the Pacific Ocean port city in Mexico, hence the name.
You can pick Pacifico Clara up in three bottle sizes (and in some cases, can sizes), and as far as mass-produced beers go, this one is pretty great. 
If you've only ever been acquainted with Mexican beers like Corona and Modelo, this one may surprise you.
It's more complex and refreshing, with a generously sized white head and a pale gold body, and before you take a sip, you'll notice the dominant aromas are malt and straw.
If you're not a fan of bitter beers and you want an easy drink, Pacifico Clara should be at the top of your list! 
2.Noche Buena
Next up, we have a pretty special Mexican beer – Noche Buena. Noche Buena is a popular Mexican beer made from a German recipe, and it's a seasonal favorite.
Noche Buena is usually enjoyed over Christmas in Mexico, but it's available to buy the whole year round. However, it can be a little difficult to find when it's not 'in season', so be prepared to do a little digging.
As far as beers go, Noche Buena has a pretty high ABV (5.3%), and it's generally considered a Bock-style beer. Noche Buena has a distinctive flavor, oozing with hints of caramel, sweet malt, and even a little butterscotch.
Its finish is refreshingly fruit and mild, and it has a distinctive dark copper body, and it looks like your usual Vienna.
Noche Buena has a slight white foamy head, and if you're picking it up in the supermarket, you'll usually find it in a twelve-pack.
These beers are most commonly sold between October and January and have limited stock, so if you want to make sure you grab a pack, you'll have to get there early. 
Noche Buena goes back to 1924 when it was first discovered in a German brewery. It was the first ever bock-style beer brewed in Mexico, and it's considered one of the best seasonal beers in Mexico.
This beer has quite a complex aroma and taste profile, and if you really pay attention, you may even detect notes of red fruits and chocolate.
It's moderately carbonated and has a light body, but it's unique enough to keep you mystified and coming back for more. 
3.Modelo Especial
Modelo Especial (sometimes called Casa Modelo) is a rich, full-flavored Mexican beer with an ABV of 4.5%.
Modelo Especial is a slightly pale lager that's often described as having a well-balanced flavor, and a refreshing finish.
This beer is definitely on the more fruity end of the scale, and you'll probably detect notes of herbs and orange blossom honey.
It's smooth with a slightly malty sweetness, and you'll still be able to detect some notes of grain and grass in there. 
Honey is the most notable sweetness in this beer, but halfway through, you'll be hit by a quick burst of orange notes.
Its aroma is also predominantly citrus-like, making this a great beer to enjoy in the sunshine, with a big wedge of lime. When you pour this beer, you'll notice a nice flow of bubbles, and the head dissipates almost immediately.
Its taste tends to linger for a while, but if you want to enjoy it at its sweetest, we'd recommend leaving it to warm up. When this beer starts to warm, it becomes even sweeter. So, for a more bitter taste enjoy it ice cold. 
This is a universally appealing Mexican beer. It definitely doesn't have a complex flavor profile, and it'll be pleasing to most palettes. If you like your beers sweet and uplifting, you'll enjoy Modelo Especial.
4.Estrella Jalisco
Next on our list is Estrella Jalisco. Estrella Jalisco is a type of Mexican lager beer that's produced by Grupo Modelo.
Estrella Jalisco has an ABV of 4.5%, and it's a variety of premium pilsner that's refreshing, crisp, and has little to no aftertaste. 
Estrella Jalisco may look a lot like Corona, but the similarities end there. Estrella Jalisco has that popular golden body, with a light and smooth flavor which makes it great to enjoy on almost any occasion.
When you first drink this beer, you'll notice a slightly crisp, malty flavor, with undertones of caramel and corn.
The sweetness of the corn becomes more pronounced as you keep drinking, but it's not enough to be overbearing.
When you get to the end of your sip, you'll finish on a slightly light floral note that dissipates quickly and doesn't tend to linger. 
Estrella Jalisco has a pretty faint smell. It's hard to detect, but corn can be described as the most prominent aroma. Estrella has a faint white head that doesn't stick around, and it's pretty heavily carbonated.
If you're not a fan of carbonated beer, you may not enjoy this one. Its high carbonation can leave you feeling pretty full, so although it may taste rather moreish, you'll struggle to squeeze in more than a few pints without feeling full.
In other words, this may be best enjoyed WITHOUT food. 
With a crisp mouthfeel, a fizz on the tongue and some fruity flavors, this is a delightful Mexican beer that you can return to time and time again.
As it's not seasonal, you'll also be able to enjoy it throughout the year, which could see it become a regular addition to your collection! 
5.Tecate
Last up, we have Tecate. Tecate, or Cerveza Tecate, is arguably one of Mexico's most popular beers. It's also incredibly popular in California, where you're likely to find it on tap at almost every corner!
Cerveza Tecate is a delightful, full-bodied lager with a standard ABV of 4.5%.
Cerveza Tecate has a notable crisp malt flavor, and it can be best classified as an American lager due to its high carbonation, yellow-gold color, and it's also bottom rather than top-fermented.
Tecate is a slightly sweet lager, with a mild flavor of pale and cracker malts. In terms of aroma, it smells like your usual macro lager, and could not be described as having a complex flavor or aroma profile. 
When poured, Tecate produces a decent-sized head, and its color is golden but clear.
If you're used to adjunct lagers, you'll probably notice that this one smells a little more malty. It also has more prominent floral notes than other varieties, but they're not too sweet or overbearing.
If you drink this beer before the head builds up, you'll probably find it tastes a little light and watery. So, if you want a thicker-bodied lager, give the head a few minutes to settle.
Its malts may taste grainy and roasted, but Tecate still provides a smooth mouthfeel, making this a refreshing, easy-to-drink lager. 
Although some lagers taste better when warm, this often isn't the case with Tecate. Tecate is best served cold, and it's destined to quench your thirst and go down a treat with a great plate of food.
The Bottom Line
Even the fussiest of beer connoisseurs can agree that there's nothing quite like a crisp, cold Mexican beer.
Whether you're grilling with the family, relaxing in the sunshine, or unwinding after a long day at work, these beers are a foolproof way to enhance your experience and quench your thirst. 
For best results, remember to enjoy your Mexican beer ice cold, and serve it up with your favorite Mexican cuisine for the ultimate experience.
Latest posts by Rees Vaughn
(see all)