Savannah is one of America's long-standing cities, famous for its stunning coastal landscapes, architecture, and artworks. If we asked you to list a few famous brewing cities in the US, Savannah probably wouldn't be one of them.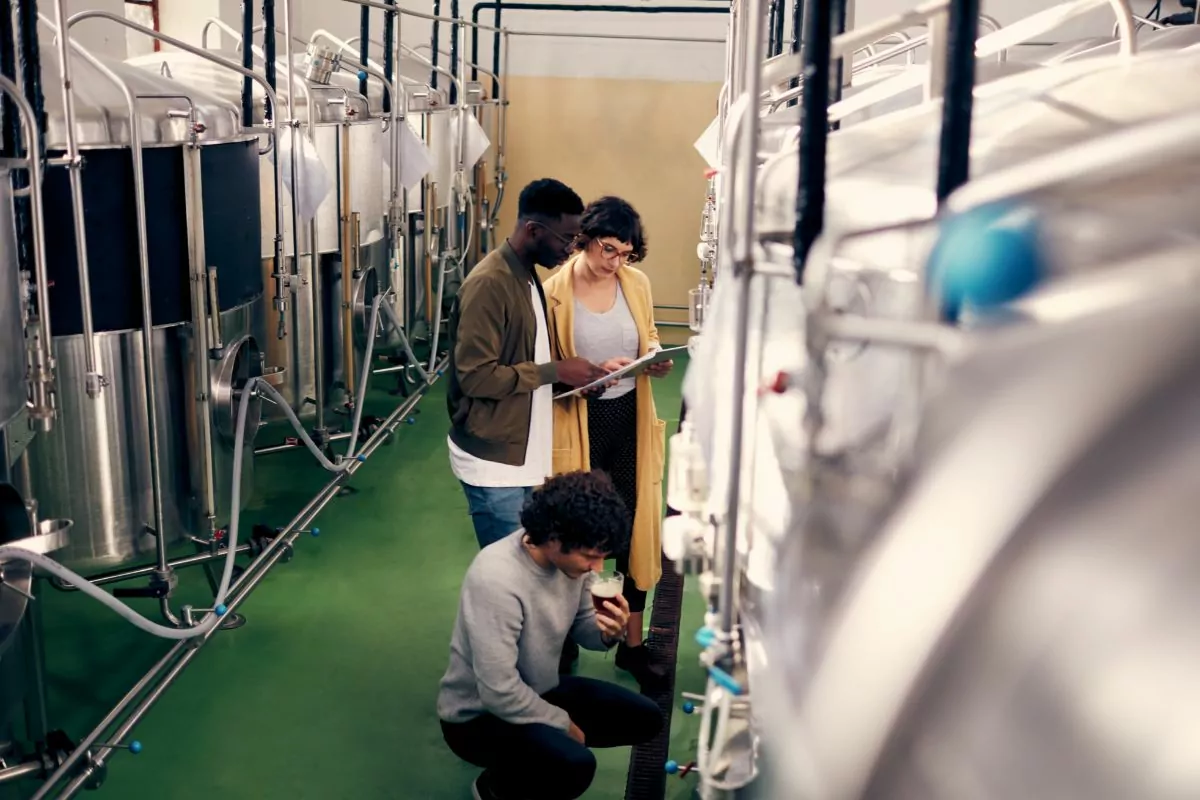 However, local breweries have recently boomed in the area, attracting thousands of tourists and pleasing the palettes of locals.
If you're keen to explore the best breweries in Savannah, we're here to lend a hand. Today, we're going to introduce you to five of our all-time favorite breweries in Savannah.
From family-friend establishments to unique micro breweries, there's something for every kind of drinker to enjoy.
21 W Bay St, Savannah,
GA 31401, United States 
First on our list is Moon River Brewing Company, Savannah. Moon River Brewing Company is a bar, brewery, and pub all rolled into one, and it can be found on West Bay Street, Savannah.
The beer is definitely one of the highlights at Moon River Brewing Company, and you can be sure to find plenty on the menu with intriguing names like Yoga Pants, Wacky Wit, and That's So Retro.
ABVs range from 3.4% to 7.0%, and if you want the most bang for your buck, don't forget to visit during happy hour (4-7pm daily), for $1 off house brews, and wells and house wines for $3!
Moon River Brewing Company serves a little something for everyone, from dry irish cider to belgian-style wheat ale. So, whether you want something bitter and hoppy or citrus-sweet, you'll be sure to find it here.
There's also an eclectic wine and food menu to cater to all tastes, so you can enjoy a nice glass of red with some chicken tenders, soup, salad, or even tater tots!
The brewery also has its very own kids food menu, making this the ideal family-friendly brewery to treat the whole family to.
Moon River Brewing Company is also famous for a few other things, including its regular Drag Brunches, and perhaps most notably of all, its hauntings.
Yes, really. Moon River Brewing Company is a popular spot for all those intrigued by the supernatural, as hundreds have reported seeing some rather unusual visitors lurking around the premises…
There may be an abundance of breweries to visit in Savannah, but none of them are quite like this one!
107 E Lathrop Ave, Savannah,
GA 31415
Next on our list we have the Southbound Brewing Company, Savannah. Southbound Brewing Company offers tours, events and tastings and provides a more 'traditional;' brewery experience to its visitors.
Southbound Brewing Company is Savannah's first production microbrewery, and its impressive taproom has a stunning collection of brews on tap for you to enjoy.
Some of the most popular drinks on the menu include Mountain Jam, a dry hopped lager with a light body and citrus aroma, and Hop'Lin IPA, a West Coast IPA with hints of caramel and a citrus aroma.
The taproom is open Wednesday to Sunday between 12pm and 12am, depending on the day.
Southbound Brewing Company has been running since 2013, and it aims to increase the appreciation of craft beer in the local community.
You'll also find plenty of other interesting things to see and do at the brewery, including live music and a food menu. There's also indoor and outdoor seating, and another food truck nearby to suit all tastes!
With friendly staff, a cozy atmosphere, and modestly priced drinks, Southbound Brewing Company is the perfect brewery to stop by if you want a true taste of Savannah.
79 Ross Rd, Savannah,
GA 31405, United States
Coastal Empire Beer Co. has the tagline "live, relax, savor", and that's exactly what you'll be doing when you try any of their delicious beers(see also: 12 Delicious Chinese Beers To Try Today)(see also: 10 Delicious Czech Beers To Try Today). Coastal Empire Beer Co. has some delicious year-round drinks, with a few seasonal offerings that bless the menu once a year.
Some of the most popular drinks on the menu include Savannah Brown Ale (6.2% ABV) with a malty flavor, hoppy finish, and notes of nuts, chocolate, citrus, and caramel.
If you fancy something a little unique (and low ABV), Coco Pina Gose puts a whole new twist on your traditional German Gose, that's brewed with coconut, pineapple, atlantic sea salt and Himalayan salt.
The tap room at Coastal Empire Beer Co is also pet friendly, so you can bring along your favorite four legged friends along for the trip!
The brewery has been up and running since 2010, and has since become one of the most popular spots in Savannah for locals to kick back, unwind, and dive into some truly exceptional craft beers.
There are approximately 16 beers on tap, and the atmosphere is truly laid back, with indoor and outdoor seating available.
If you can't make it to the brewery, you'll also be pleased to know that its craft beers are distributed throughout Savannah with the help of Savannah Distributing.
The atmosphere sure does make for a special trip, but rest assured, you may be able to get your hands on some of the classics at your local store, too!
This award-winning brewery has an impressive selection of achievements under its belt, and it also hosts regular tours and tastings at its main production facilities, which are available on request.
There's so much to love about this brewery, so don't forget to check it out on your next visit!
535 E 39th St, Savannah,
GA 31401, United States 
Next on our list is Hop Atomica, an exciting microbrewery and gastropub found in Savannah, Georgia.
Hop Atomica is a unique microbrewery that specializes in offering delicious, wood-fired food and plenty of delicious craft beers, all within the walls of its delightful mid-century modern establishment.
Hop Atomica also has delivery and takeaway options on offer – it's no wonder it's such a hit in the local area!
Hop Atomica has a delicious menu to pair with your craft beers, serving a little bit of everything from classic American cuisine, to breakfast, brunch, and desserts.
Its beers also boast some pretty funny names to the tune of "Schwing" and "Freakin' Stoked" – if that's not enough to pique your interest, we don't know what is.
The wrap labels on its cans are probably a little different from what you'd expect on a traditional beer, with a gente metallic, pastel colors and vintage hues, giving them a high-end feel you won't find at other microbreweries.
There are plenty of draft beers on offer, including IPAs, Juicy IPAs, Sours, and more. You can also buy straight from the bottle or the can if you want to take your drinks away with you.
As far as breweries go, Hop Atomica has a pretty unique feel to it that you won't find anywhere else in Savannah.
If you want to combine vintage and high-end aesthetics, and experiment with boldly flavored craft beers, this is one you won't want to miss.
125 E Broughton St, Savannah, GA
31401, United States 
Last up, we have Savannah Taphouse. If you love burgers and beers, this is the place to be! The menu at Savannah Taphouse is vast, exciting, and ever changing, and daily availability may vary depending on demand.
Draft sours are a big hit here at Savannah Taphouse, with the likes of Watermelon Dragon Fruit Burst stealing the show. Watermelon Dragon Fruit Burst is a beautifully fruited sour enriched with (you guessed it) watermelon and dragonfruit, and an ABV of 4.5%.
If you want something a little more traditional, the taphouse also has an impressive selection of Draft Pale Ales, such as Sweetwater 420 (a west coast style pale ale with crisp hops), and Kentucky Bourbon Barrel Ale, a unique beer loaded with some exceptional Kentucky Bourbon.
In terms of food, the burgers here are arguably the most popular thing on the menu.
However, Savannah Taphouse also offers plenty of other enticing options, such as the soup of the day, beef sliders, mac and cheese egg rolls, wings, pretzel bites, buffalo shrimp, and much more.
You can also order your food and drink directly from the website or toasttab, so if you can't make it to the brewery, don't worry – you don't have to miss out!
If you're looking for a family-friendly brewery that you can take the kids to, this is the perfect option.
Savannah Taphouse also has its very own kids menu, so you'll find plenty of delicious meals to keep them satisfied while you work your way through the craft beer menu. There's something for everyone to enjoy at Savannah Taphouse, and we're sure you'll love it!
Final Thoughts
The number of breweries in the US is on the rise, and each state has its very own selection of high-quality, award-winning breweries for you to enjoy.
Although Savannah was once short on quality breweries, the number of establishments has since risen drastically, and these are just a few of the incredible places you can expect to find on your visit.
We hope this roundup has inspired you to broaden your horizons, and explore the impressive selection of craft breweries found throughout Savannah. So, what are you waiting for?
Get ready to treat yourself to an unmissable experience at one of Savannah's finest breweries!
Latest posts by Rees Vaughn
(see all)