If there is one thing that Japan knows how to do right it is alcohol. From spirits to beers, Japan is home to some of the most delicious beers in the world. Alcohol is huge in Japanese culture and it is now spreading to the rest of the world.
Brands of all sizes are evolving along with the industry itself. That has given way to a fairly diverse ecosystem of craft beers and unusual beer styles, of which only a small portion are well-known worldwide.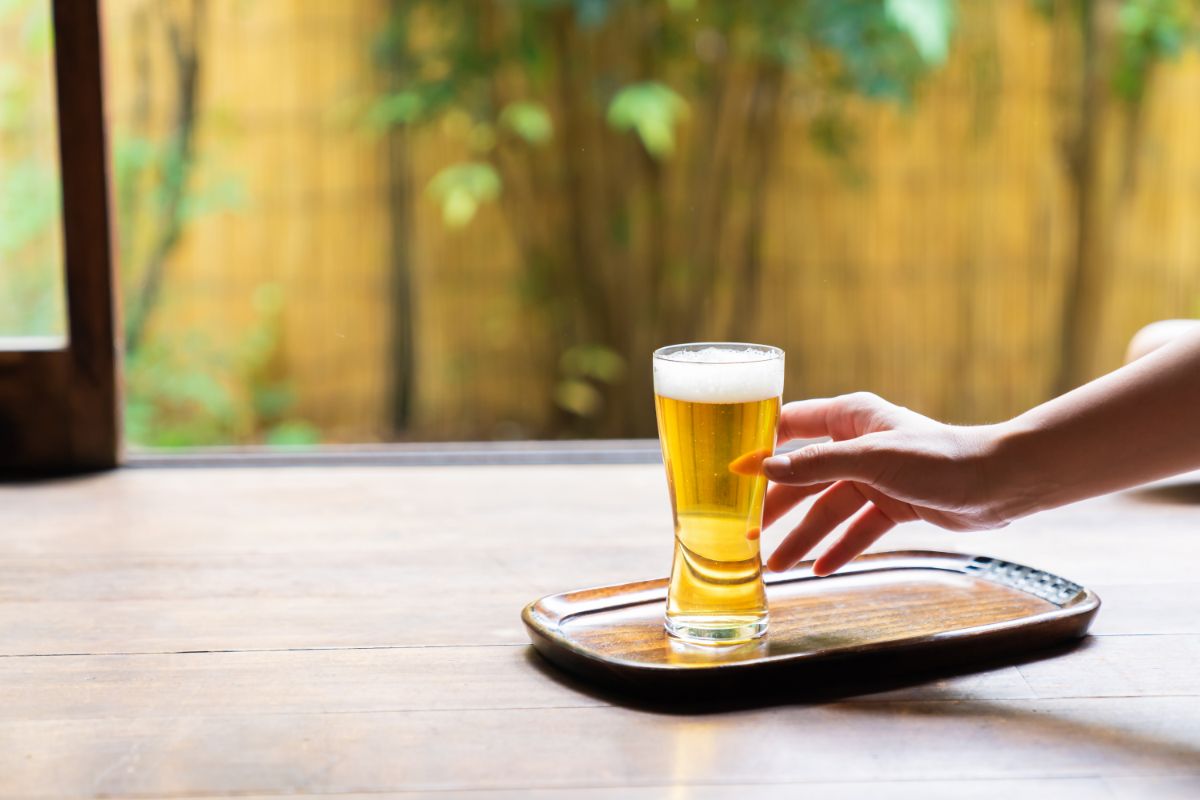 Below are 7 delicious Japanese beers that you can try (see also: 10 Delicious American Pilsner Beers To Try Today)along with ramen, sushi, or tempura prawns. Keep reading if you are ready to discover a whole new world of beers and just how diverse the beverage can be.
Sapporo is named after the city it was created and is now one of the oldest beer brands from Japan. The brand has grown to become a favorite for millions of beer drinkers and once you taste it, you will understand why.
Sapporo is a traditional larger with a sweet undertone. Sapporo Premium is stocked in every bar in Japan and can be found in the majority of restaurants and bars around the world.
The brand now has various options, including Sapporo Pure which is a light version of the beer with only 90 calories per serving. Perfect if you love beer but want to remain on the healthier side of things.
For those who prefer a heavier beer, Sapporo Premium Black Beer is an excellent choice. It is a bold, dark lager that has an additive bitterness in the aftertaste. Just make sure to let it settle before taking that first sip.
Anyone can enjoy this beer with a variety of meals including a juicy burger or an indulgent steak.
The first Japanese brewery was established in 1869 and is now known as Kirin. It is loved by many across the nation and can be found in almost every licensed premise.
Kirin Ichiban is the brand's most popular beer. It is a premium, 100% malt beer that is brewed using the first-press method. With this beer, you will experience a smooth flavor that is rich from the moment it touches your tongue to the very last sip.
The Kirin brand also does a wide range of beers including their Frozen Beer. It remains fresh and cold for 30 minutes and is served with an interesting snowy foam texture that has you coming back for more.
Or if you prefer something fruity, you have the special Kirin Ichiban Toretate Hop. This is a seasonal beer that has the flavor of the toretate that is picked fresh from the Tono area.
This is the perfect introduction to a Japanese bar as it offers a crisp yet light taste that settles nicely on the taste buds without being too overpowering.
Kirin Ichiban is one of the most famous Japanese beers on the market and it is truly delicious. With one sip you will never go back to American beer if you can help it.
Yebisu Beer is a branch of Sapporo and is named after the Japanese God of fortune. This is the inspiration for the packaging design. It is made from high-quality ingredients and is brewed in line with the Germany Beer Impurity Law.
This ensures it is the best quality of beer that can be brewed.
Yebisu beer is rich in both flavor and fragrance with a crisp finish. Made from 100% malt, Evis yeast, and Bavarian aroma hops. You will enjoy every sip of this traditional beer as it pairs perfectly with any dish.
Or on the couch after a long day at the office.
This beer is a little more expensive than the brand's main beer but it is worth the extra cash for a taste. Serve chilled and drink straight from the can or pour into a chilled glass for a more rounded flavor.
Orion Premium Draft Beer is a lesser-known beer in the Western market but it is quickly becoming more popular. It is the fifth-largest brewer in Japan and its knowledge is shown in every sip.
The brand's lager has a light yet nuanced malt flavor and is naturally carbonated, somewhat acidic, and carbonated. It has a rich body that only beer can provide while still being energizing.
It enhances the flavors of each dish and piques appetites with every dish, not to mention Okinawan cuisine.
Orion Premium Draft Beer should be served with a large foam as it contains protein and another component is enhanced during the brewing process.
You never get weary of the taste thanks to the contrast between the crispness of the beer and the rich, creamy froth.
Orion is the perfect beer that can be enjoyed without being too much. The perfect middle ground for anyone new to Japanese beers and their flavors.
Suntory is more recognized for its incredibly smooth and rich whiskey. However, they are taking over the beer scene and once you taste their premium malt, you will see just how they plan to do it.
Award-winning Premium Malts from the company are made in the pilsner style with carefully chosen malt, hops, and 100% pure water.
While it does have a slightly higher ABV than other beers on the market, it is still extremely easy to drink and makes the perfect sharing beer.
Suntory The Premium Malt has become a major player in the Japanese beer scene and it is becoming extremely popular in America.
Switch things up at after-work drinks and cheers over Suntory The Premium Malt. From weddings to a quiet beer alone, this beer has excellent taste and an even better aftertaste.
Make sure to take your time and enjoy each layer of flavor that this beer has to offer. You will never finish one unsatisfied.
Asahi is one of the most recognized and popular beers that is produced in Japan. With a history dating back to 1989, it is known as the pioneer of Japan's beer industry.
Asahi Super Dry is comparable to a German larger. It is light and crispy allowing you to savor every flavor it provides. This beer is said to embody the taste of Modern Japan.
The creamy head, which locks in carbonation to keep the beer crisp and clean, is the key to producing the ideal Super Dry serve. It can be paired with a variety of cuisines from all across the world.
Perfect for keeping in the fridge when you have guests coming over.
Asahi Super Dry was an experiment to find a beer that is refreshing without lingering for hours after drinking.
The aim is to enjoy each sip as if you have never tasted it before and it is perfect for anyone in need of a refreshing beverage for any occasion.
American and Japanese hops are combined with malted wheat and barley to create the American-style pale beverage Baird Beer Rising Sun Pale beverage. The flavor of the beer is light, crisp, and complemented with a mild hop bitterness.
It has a pale golden hue. The beer pairs well with a variety of dishes because of its crisp finish and fruity aroma that is evocative of grapefruit and citrus.
It has a basic flavor that is pleasant, making it ideal for beer drinkers looking for a good brew.
History Of Beer In Japan
Beer in Japan has an extremely long and rich history. It was first introduced to the culture in the late 19th century when Westerners first explored the country. This saw the importing of products the culture has never heard of. Including beer.
In Yokohama, a Dutchman by the name of Philipp Franz von Siebold established the country's first brewery for brewing beer. The Japanese populace, however, disliked the bitter taste of the beer made at this brewery.
In an attempt to modernize the country, the Japanese began drinking beer and it quickly became a popular drink for everyone to enjoy.
Asahi, Kirin, Suntory, and Sapporo are the four largest breweries in the Japanese beer industry today. However, a lot of smaller craft breweries create a wide range of interesting and distinctive beers.
Since its inception, Japanese beer has advanced significantly, and it is still a well-known and adored beverage in Japan and around the world.
Final Thoughts
Japanese beers are versatile and delicious. They bring a new range of flavor profiles to the table while still following the German Beer Impurity Law. Japanese beers are made with fresh ingredients that will have you satisfied with every sip.
Above are 7 of the best Japanese beers that you can enjoy with any meal. Whether you are an avid beer drinker or are just dipping your toes in the water, Japanese beers have something for everyone.
Light beers, dark beers, and fruity beers are all in the Japanese beer market. You just have to discover which one is your new favorite.
Latest posts by Rees Vaughn
(see all)