Are you looking for the perfect place to enjoy a cold craft beer? Look no further than Louisville, Kentucky! This city is home to some of the best breweries in the country.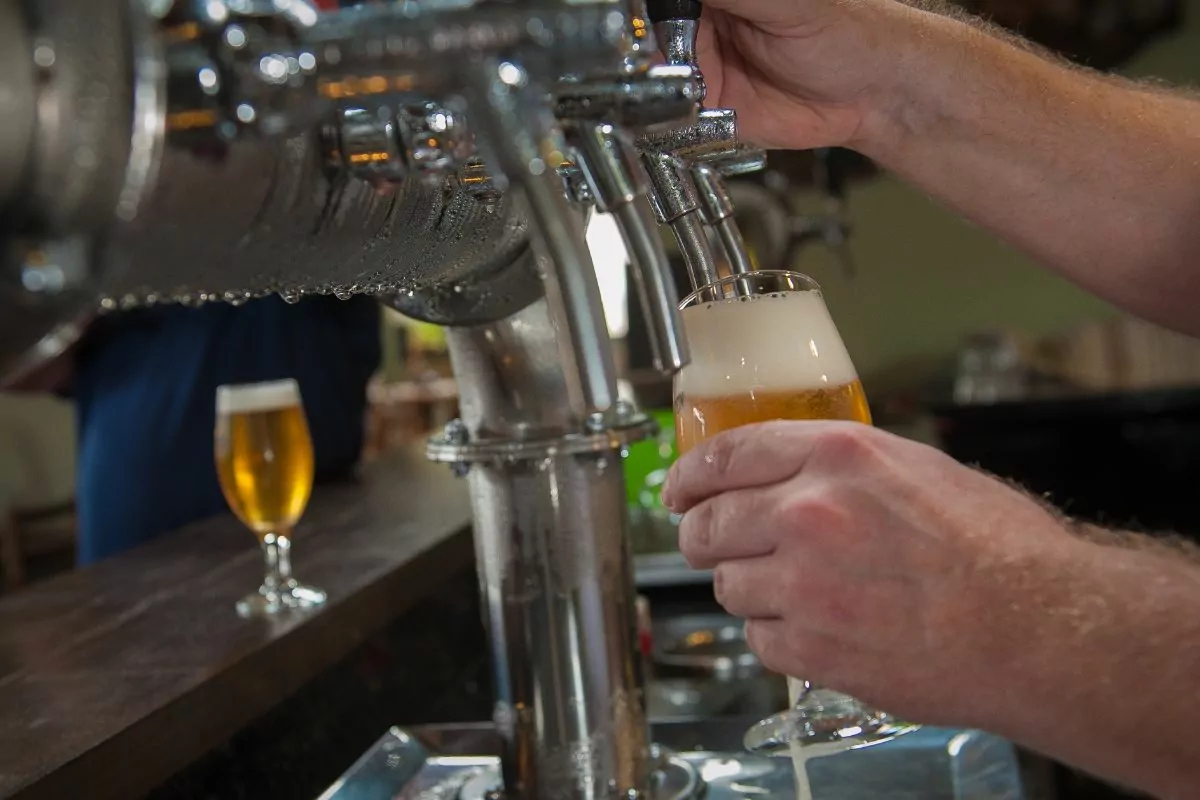 Whether you're an experienced beer drinker or just getting into it, these unmissable Louisville breweries are sure to please your taste buds.
This locally owned family-friendly brewery has been in Louisville since 2014 and specializes in craft beer. They offer a variety of seasonal beers, but are best known for their flagship 'Rising Sun Pale Ale'.
The atmosphere at Great Flood is relaxed and cozy with an open air seating area that looks out onto Shelbyville Road. You can also find delicious food options there, such as pizzas, pretzels and salads.
Aside from its amazing selection of beers, one of the reasons why so many people love to visit the Great Flood is because they often have live music performances and karaoke throughout the week.
Plus, they host events like trivia nights, comedy shows and art exhibitions too!
Falls City Beer is one of the oldest breweries in Louisville, and it's a must-visit for craft beer lovers. Established in 1905, this brewery has been making excellent beers ever since.
The taproom offers an extensive selection of their brews, including classic pilsners and ales as well as unique IPAs and stouts. Some even seasonally rotate flavors like Pumpkin Spice Ale or Mango IPA.
Falls City also has plenty of fun activities to enjoy while you sip your drinks – from cornhole tournaments to live music events.
Whether you're looking for something special to try or just want some good company with great beer, Falls City should be at the top of your list!
This independent craft brewery was established in 2016 and has quickly become a favorite among locals for both its selection of delicious beers and cozy taproom atmosphere.
The team at Mile Wide focuses on crafting small batch brews that are flavorful yet approachable, utilizing ingredients sourced from within Kentucky whenever possible.
Whether you're looking for an IPA, lager or Gose-style beer, they have something to satisfy every taste. There's even a rotating list of specialty concoctions if you want to try something different.
Mile Wide also offers an array of food options that pair perfectly with their libations – burgers, sandwiches, tacos and more.
Plus, there's often live music playing inside the taproom so you can sit back and enjoy a cold one while taking in some tunes.
Gravely Brewing Co is a must-visit destination for beer lovers in Louisville. Located just outside of the city center, this brewery offers an extensive selection of craft beers from all over the world.
The atmosphere at Gravely is warm and inviting, with plenty of seating both inside and out on their large patio.
Their menu features classic American styles as well as unique beers like their Imperial Stout, which has hints of dark chocolate, coffee, and roasted malt. If you get peckish there are a variety of food options such as pizza, salads and light bites.
They also have several rotating seasonal brews that are sure to tantalize any palate.
In addition to their delicious drinks, you can also enjoy some tasty bar snacks such as pretzels or tacos while relaxing in their comfortable lounge area.
Hi-Wire Brewing established in 2012 has become one of the most popular spots for craft beer lovers. Hi-Wire specializes in balanced and approachable ales and lagers that reflect its Southern roots while embracing modern brewing practices.
The tap rooms are cozy with a laid back atmosphere. They offer several specialties on draft, such as their flagship pale ale, "Hi-Pitch Mosaic IPA," "Mountain Water Citrus Splash" and more.
Their beers can also be found throughout Kentucky, North Carolina and Tennessee.
Their tasting room serves up delicious food from local restaurant partners to pair perfectly with your brew of choice! In addition to serving pints and flights in the taproom you can order growlers or cans to go so you can enjoy some Hi-Wire at home too!
Apocalypse Brew Works is located in the heart of the city, this nano-brewery has been making unique ales and lagers since 2012. From their core beers like "Fallout Dust," and "Atomic Amber" to unique seasonal offerings.
Their taproom features a full bar stocked with their own brews as well as guest taps from other local breweries.
The atmosphere is always welcoming and friendly, great for enjoying some quality craft beer or playing one of the board games provided by the staff.
Plus, once a month there are special events such as trivia nights, live music performances, food trucks and more!
TEN20 Craft Brewery has a cozy atmosphere and delicious craft beer selection, it is a great spot for Louisville locals and visitors alike.
Known primarily as "Louisville's Living Room", this brewery offers a wide variety of handcrafted brews that pair perfectly with their tasty food menu.
Here are four reasons you should check out TEN20:
They offer an extensive collection of beers made using traditional German brewing methods and cutting edge technologies.
Their welcoming taproom features regular events such as live music, trivia nights, and beer dinners.
The chefs at Ten20 craft special dishes to complement the flavors in the various beers they serve.
You can purchase growlers or shop online for bottles and cans of your favorite brews.
What's not to love?
Butchertown Brewing Company is a must-visit brewery in Louisville. Located not far from the Ohio River, it's an ideal spot to try some of their award-winning beers and enjoy the stunning views.
The head brewer at Butchertown has crafted several unique ales for guests to sample, such as their Kentucky Common Ale and Oatmeal Stout.
In addition to these specialty brews, they also offer a range of traditional favorites like IPA's and Pilsners.
All of their beer recipes are brewed with locally sourced ingredients which gives each one its own distinct flavor profile. For those looking for something other than beer there's cider, wine and even mead available too!
The atmosphere inside this cozy taproom will make you feel right at home – from friendly bartenders who can help you choose just the right drink, to live music playing while you sip your beverage.
There's plenty of seating both indoors and outdoors so no matter what time of year you visit you'll never feel cramped or uncomfortable here.
Plus, if you're feeling hungry after all that tasting then there's food trucks located outside serving up delicious snacks to go along with your drinks!
Bluegrass Brewing Company is a must-visit brewery in Louisville. Founded in 1993, BBC has been producing quality craft beer for over 25 years. They offer a wide selection of ales and lagers – with something to suit everyone's taste buds.
Their flagship brews include the Kentucky Common Ale, Bourbon Barrel Stout, and the popular Big Brown Ale. But they also have seasonal beers like their Winter Warmer or Dunkleweizen that are sure to tantalize your palate!
BBC offers tours of their facility where you can learn about the brewing process firsthand from one of their knowledgeable staff members. You'll get an inside look at how each beer is crafted as well as some great samples along the way.
Plus, there's plenty of food options available onsite so you don't have to worry about going hungry while enjoying your favorite brews.
The Akasha Brewing Company was founded in 2015, the company has a long history of brewing quality craft beer.
With a focus on local ingredients, the Akasha Brewing Company has created a portfolio of award-winning beers that are enjoyed throughout the region.
Their taproom and production facility is located in Louisville's Nulu neighborhood, and the brewery also operates a satellite taproom in the city's Germantown neighborhood.
Akasha Brewing Company offers a variety of beer styles, from IPAs and lagers to sours and Belgian-style ales. All of their beers are brewed with locally-sourced ingredients and are crafted in small batches to ensure each beer is of the highest quality.
In addition to their beer selection, Akasha Brewing Company also hosts a variety of events throughout the year, from yoga and beer tasting classes to live music and beer festivals.
They are also involved in the local community, supporting a variety of causes and organizations.
Akasha Brewing Company is a great place for craft beer lovers to visit, and for locals to explore the unique flavors and styles that the brewery has to offer.
Conclusion
If you're ever in Louisville, don't forget to check out some (or all!) of these amazing local breweries – you won't regret it!
You'll get to experience unique flavors crafted by passionate brewers who take pride in their work – what could be better than that?
Latest posts by Rees Vaughn
(see all)